The Alberta Tiny House has wheels, but seems quite at home where it is in the middle of an organic vegetable garden in northeast Portland, Oregon. It was hand built over a period of 14 months using upwards of 80% reclaimed materials, including a lot of truly beautiful cedar and fir. Its ten double-pane windows, French doors and a nine-and-a-half-foot ceiling make it feel fairly roomy, even though (as you can see from the photos) it's really a pretty small space. We also love the mixture of siding materials, which adds a totally unique visual appeal to the exterior. Let's take a peek inside, shall we?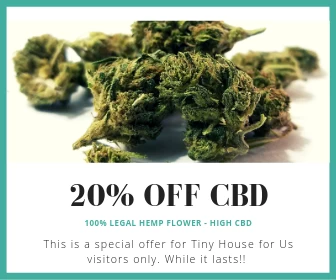 The house is surrounded by an edible garden on the outside, and is just a short 5-minute bike ride from Portland's popular shops and restaurants.
Inside you'll find an equally inviting combination of modern/rustic design, with clean white walls, open shelving, and oiled ceder and fir trim that makes the house feel equally warm and beautiful inside. An 8′ x 8′ loft provides plenty of sleeping space above the kitchen. Mason jar lights hang from the ceiling, which itself is made from cedar planks.
The bathroom extends that modern/rustic feel, with corrugated tin sheathing for the shower walls, and a contemporary style shower head.
A small living area occupies the opposite end of the house. Notice the storage shelves above the door, a crucial feature that helps keep the clutter out of sight.
The Alberta Tiny House is available for rent on Airbnb for $125 a night, with a two-night minimum stay. If you want to stay longer than a month you're advised to contact the owners directly via email. You might also try emailing them if you're interested in getting a similar house yourself, as there's some indication on their website that they'd be willing to build you one. Check out http://tinyhousenorthwest.weebly.com for more information