Chelsea didn't know she wanted to build a tiny house until she was in a bookstore one day, looking for a book on building a teardrop trailer to give her husband, when she stumbled upon Lloyd Kahn's "Tiny Homes: Simple Shelters". She quickly traded the idea of a teardrop trailer for a tiny house, and brought the book home, immediately shared her new vision with Adam, and thus their dream was born. From that point on they spent a few months bouncing around ideas before deciding to jump in with both feet.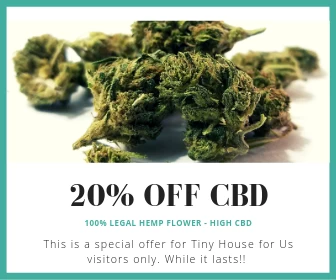 Like many young couples who decided to pursue tiny house living, Adam and Chelsea had very little prior building experience. Adam was competent enough to build a chicken coop among other small projects in the past, but this experience would require a lot of hard work and self-education. They didn't let that scare them away. After scouring Pinterest for ideas, watching Youtube videos, and drafting layouts on paper, they eventually designed a small scale model of their future home.
They purchased a used 8×22′ trailer for $1500 on February 25, 2014 and began prepping it for the build right away. They planned to move from Eugene to Portland, OR on July 16, 2014 which meant they had five months to get the build finished. Needless to say, they were able to complete the 176 square foot house by then. As a firefighter, Adam had days off which he used to work on the house and Chelsea pitched in when she had a spare moment. With a little help from family and friends, including an uncle who stayed with them the entire last week, they were able to finish just in time.
They share the space with their Maine Coonhound, Jesse, who seems to feel right at home.
As the build progressed they worked to be as resourceful as possible, sourcing things like this apartment sized refrigerator used on Craigslist.
Another find on Craigslist was the salvaged RV stove, with three burners and a nice classic look to it.
The pop-out space they included in the design worked perfectly to house the washer/dryer combo unit. The bathroom contains a composting toilet and tankless water heater as well. Whitewashed pine paneling in the bathrooms keeps it classy.
The exterior features mixed textures of cedar clapboard siding and hard panel siding from James Hardie.
A Dickinson marine stove heats the place up, and a slim profile staircase leads to the upstairs loft.
Simple open shelving keeps things uncluttered and accessible.
The couple posing in front of their decorated house during their first Christmas in their new home.

Take a tour of the (almost) finished home
You can follow this couple's journey and learn more about their build at their blog http://thewhynothouse.com/