Wind River has a tradition of letting their tiny homes speak for themselves, so let's listen to what their latest, the Chimera, has to say. The word "chimera" can refer to something composed of parts from different sources – for example, the original Greek version was an unlikely and miscellaneous hybrid of lion, goat, and snake. Now, mixing and matching is something of a Wind River tradition itself – previous builds have included a log cabin with a decidedly modern angular sink and one where traditional Japanese elements gave way to an industrial style bathroom. Take a look and judge for yourself if the Chimera is up to snuff!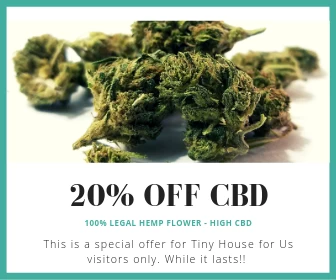 For the Chimera, the contrasts start on the exterior with some unusual burl-wood trim accenting flat gray siding.

Inside you have a blend of rustic wooden shelves, cabinets, floors and ceilings with bright white walls, modern appliances and a stainless steel corkscrew faucet in the kitchen sink.

A view into the kitchen of the Chimera; pictured are the aforementioned modern appliances and corkscrew sink.

The deftness of the design doesn't end with the aesthetic! Putting the washer/dryer and refrigerator under the stairs leading to the sleeping loft is one of many a great space-saving touch!

Stairs and storage leading up to the bedroom loft.

Another great space-saving touch – and a fitting contribution to a design called Chimera – is this fold-out couch/bed/storage locker in the living room.
As you have seen, the different blended elements go together quite well without clashing or looking too out of place. We've described Wind River as one of our favorite builders, and The Chimera looks like yet another entry in their long run of successes. Not convinced? Maybe you should sleep on it in the bedroom loft.
No doubt about it, Wind River is one of the most consistent builders out there, always doing something unique and original.
Resources
http://www.windrivertinyhomes.com/
http://instagram.com/windrivertinyhomes