Wind River's early builds were always interesting, but sometimes rather mix-and-match – in fact, one of them was actually named the Chimera. Lately, though, the Chattanooga company seems to have taken a turn towards more stylistically consistent houses. Which is not to say they've gotten boring, just that you don't feel like you're in a completely different house when you step into the bathroom. Last year's Rook was a great example of how Wind River has begun blending their penchant for innovation with a new aesthetic sophistication: The loft utility area was unusual to say the least, but it was well integrated into the overall dark-but-homey industrial look. Now comes the Monocle, an elegant 24-foot farmhouse whose light, bright and lovely interior is sure to earn Wind River a lot of new fans.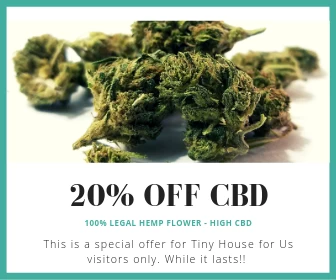 The wooden floor and ceiling and white walls of the open, uncluttered living/dining/cooking space contribute to a calm, peaceful atmosphere, while natural light from the many windows amps up the cheerfulness.
It would be nice to have an oven, but with a deep sink and plenty of counter, cabinet and shelf space the kitchen looks great for anything that doesn't involve baking.
And the bathroom at the other end? Simply incredible, with a full-size bathtub under a huge circular window along the end wall, an open tiled shower area with a rainfall showerhead, and a built-in mirror above the floating sink. There's also a composting toilet.
Eight-foot-tall double closets resolve the tiny house clothes storage question quite convincingly.
No washing machine in the loft this time, just a cozy, window-lined place to sleep.