The last Wishbone house we looked at was a spacious 300-square-footer called the Tiny Wynette. Their Sheriff model is a lot smaller, at 208 square feet, but manages to pack even more inside – probably too much more, but see what you think. Let's explore the space in a photo tour…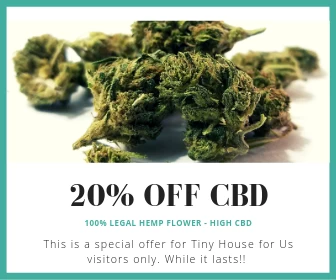 From the outside the Sheriff is a pleasant THOW distinguished mainly by a small balcony in front.
The view from the kitchen shows a walk-in closet next to the entry door and an unusual split level design to the rear.
Standing at the door, looking rearward.
The aft loft looks like it would make a decent sitting area.
The lower level, though, appears to be all of four feet high – there's no way you could stand up here, and even sitting wouldn't be very comfortable.
Walking back to the middle shows off one of the Sheriff's good points – with the aforementioned walk-in closet and big tansu stairs leading to both lofts, there really is a lot of storage room here.
The kitchen is adequate but – with cabinets on both sides and a low ceiling – cramped. Note that it includes a washer/dryer under the sink.
The bathroom is another high point – sink, toilet, medicine cabinet and even a deep ofuro bathtub surrounded by attractive tiles.
A close-up of the storage stairs…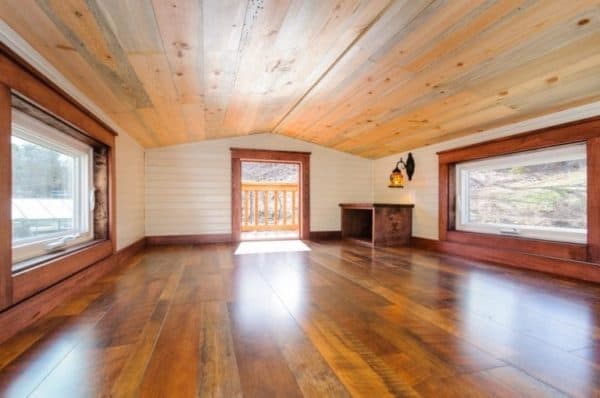 …and from there you can climb up to the sleeping loft in front. It's big enough area-wise, but the low ceiling means you probably wouldn't use it for anything except sleeping…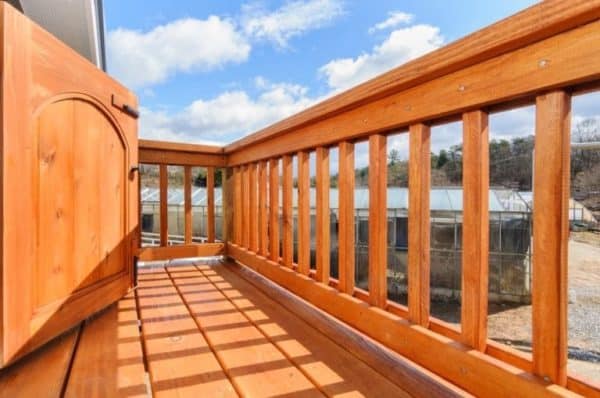 …except, of course, crawling out to the balcony.
h/t Tiny House Talk