The North Sister is an interesting first build that really lives up to the name of its builder, Wood Iron Tiny Homes. And goes beyond, in fact – there's plenty of wood and stone, but there's also quite a lot of metal and glass worked into the design. Add it all together and you have a fairly unique category-defying style that blends elements of the rustic, the modern and the industrial into a visually interesting and seemingly well executed tiny house on wheels. It's for sale, too: You can get in touch with Wood Iron through their website to get more details or set up a viewing appointment. They're located in central Oregon, near Bend.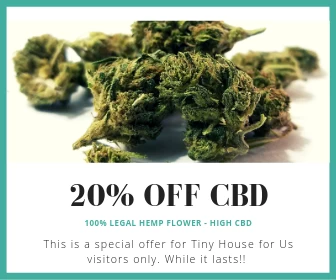 A 50-square-foot cedar porch under a fold-out awning leads to Douglas Fir French doors.
Yes, this is the same house – and yes, it has a rear entrance with its own fold-down steps.
A view of the central kitchen/dining area and what looks like a very sizable sleeping loft.
The open living room makes a well-balanced compromise between privacy and natural light.
The kitchen features a tile backsplash, granite countertops and Italian stainless steel appliances.
A warm copper and wood shower stall highlight the bathroom. The toilet is a water-saving flush unit.
h/t Tiny House Talk