Ah, the much-maligned building permit, a somewhat useful thing that prevents slum conditions from arising and makes money for the local government. They also happen to be the stick in the spokes of tiny house enthusiasts who want to build their own space to live in without referring to Section 1190 Appendix C.1.9 for approval.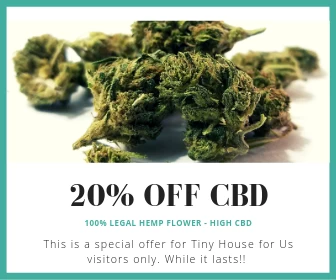 That's why you gotta love the Swedes, with their signature architecture style, population of beautiful blondes and delicious meatballs. Before we share these cute little designs, let's brush up on Swedish building regulations real quick. Tiny houses of less than 160 square feet have become quite popular there because they're exempt from zoning regulations. They're called friggeboden which loosely translated means "garden shed". For a good many others, an alternate interpretation might be "freedom" because that's exactly what these little spaces provide.
This example comes from Sommarnojen, a company in Sweden that builds specialty Friggeboden, including several sauna models.
Way back in 1979 Birgit Irma Gunborg Friggebo, the ex-Minister for Planning in the Ministry of Housing in Sweden removed restrictions on building permits and requirements for small stuctures less than 15 square meters, giving rise to a boom of affordable dwelling alternatives from some of the area's creative architects. For about $10-25k you can get something like what you see here, complete with a very strange name if you'd like. As with tiny houses, the design approach for a friggebod requires a certain amount of creativity and inspiration, and while a good number of them look like a typical garden shed, we found some others that definitely put a new spin on things.
Floda31
This one is on the grounds of Floda31, an experimental farm just south of the Arctic Circle with a mission of promoting interdisciplinary collaboration. The lead designer was Chris Mobbs, who also helped build this Friggebodar while working on his Master of Architecture dissertation, Manifesto of Making: What does the architect, architecture and society stand to gain from architecture schools adopting a culture of making?
We recently profiled this mini house, which can "pop up" in just about two days. It arrives in a flat package, with all the necessary parts ready to be assembled. Think legoland on a real-life scale. Check out their website for more information.
Steps 15
We assume the name comes from the steps that lead from the side to the roof. Each new step also includes a terraced garden space where you can plant your favorite vegetables. The roof provides extra space to relax, making the most of the tiny footprint. Some friggebod actually have entire "green roof" designs which offer an interesting take on gardening, not to mention camouflage.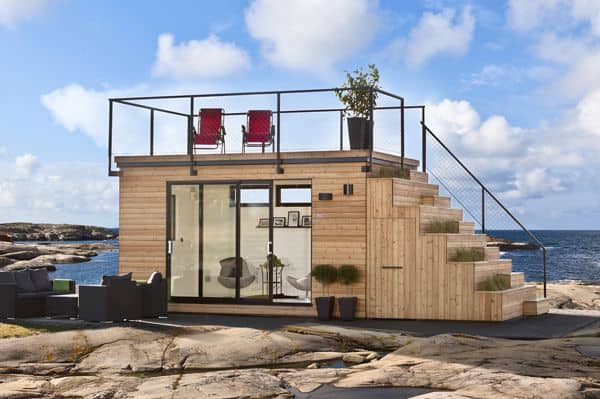 Little Houses on the Black River
Similar to the popup house avove, these mini structures were designed to fit into a "flatpack" for easy transportation to any place where they can be assembled and disassembled. You can tell they placed a significant emphasis on the on the interior and exterior design elements, and its easy to see why this student project won the 2006 Best Design School Project Award at the International Contemporary Furniture Fair (ICFF). For demonstration purposes, they placed the designs on a track on a bridge.
InsJon29
This beautiful example comes to us from Garden2Office, a UK based company that specializes in Swedish Friggebod designed spaces. They vary in use from home offices and workspaces to complete living spaces. This one here was one of our favorites, and we love the large sliding facade that opens up to let in the light and fresh air. While clearly used as a second office, this could easily be converted into a tiny house with a few adjustments.
The Birds Nest
Here's another one we profiled a while back, built by a Finnish military worker Robin Falck who wanted a place to get away from it all on his time off. He took to building this structure, dubbed the "birds nest" in his spare time. It took him just two weeks to complete the build and he did it for around $10k, a price which he attributes to using mostly salvaged materials. Although it's located in Finland, they have a similar law as the Swedish, saying any structure under 100 square feet is permissible without a permit.
Kompact by Dorte Mandrup Arkitekter
This unique design for a summer cottage includes a fold down bed that appears from the wall, maximizing the small space.
Here in America, where every state and county has its own rules and regulations, we don't have nearly as much freedom to build and design homes like these, which is an unfortunate side effect of a regulated sector such as housing. Regardless, you can take much inspiration from designs shown here and perhaps by finding certain building loopholes, build your own private retreat somewhere.