We love seeing what other people are doing with their home designs and find some of the most creative endeavors come from the ones who have little experience. In those cases, the sky is the limit, and they're not afraid to venture outside the box when it comes to their building approach. Case in point, this house built by Nate and Jenny, a young couple who decided the rent in Philadelphia was just too damn high. This adventurous couple decided it was time to start a new project, one that would bring them closer as a couple and allow more freedom to pursue what life has to offer.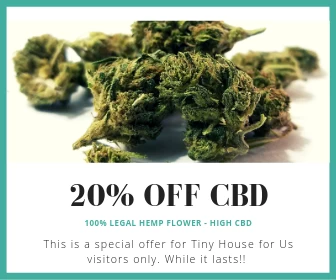 In their blog, Nate and Jenny outline a few of the reasons they chose to build their tiny house, citing the expensive living, desire to be outside, and how they value a minimalism approach toward living. They tackled this entire project themselves, learning as they went and making abundant use of recycled materials and budget-conscious design elements along the way. Their house incorporates some really cool design elements so let's jump right in!
This is what they ended up building:
They used a 20′ flatbed trailer as the foundation, which they sourced from Craigslist. From there, they set about erecting the frame and sectioning off the floorplan.
You probably want to see the roof, which is made from polycarbonate panels similar to what you'd find in a greenhouse. Below you can see a picture of how it looked during the framing stage.
Here's a good view of the ceiling fan and roof after completion.
Here you can see the ladder up to their sleeping loft. Notice how much natural light pours through the ceiling.
Notice the open metal shelving and hooks they use for organization, a great way to save on cabinets in a tiny space.
A nice size sink fits into the kitchen space. Notice the blue checkered backsplash – a very nice touch. Also, the mini Dyson Slim Fit vacuum you see there is probably one of the best choices for small houses like this – of course a broom always works well too!
With passive solar heating, the house stays pretty warm, but during the frigid winter months they need a little something extra to warm the house. A strategically placed Dickinson Marine heater sits in the corner of the house and makes for a stylish little unit that warms the place up.
Not too shabby for a twenty-something couple who decided to cut the cord from expensive city-living. What do you think of this little home, with its unique roof and living arrangement?
Check out their blog to see more pictures and learn about their building process.