By the time Dave Herrle finished hiking the Appalachian trail, he was already in the midst of a profound change at the age of 26. He quit his day job in the office and pursued a carpentry career, opting to work with wood to pay the bills and exercise his creative outlet. When his wife pushed for them to move out of the house he and his brother owned he made a promise that he would build her their own house. With all the rooms rented in the existing space, it was pretty much a bachelor pad according to him, and after his promise he immediately set out to make good on his word.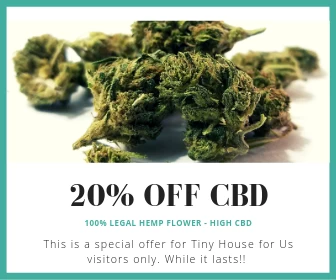 With two acres of property, finding the perfect spot was relatively easy. They picked a spot and began the build right away, securing window sashes from a salvage yard and local wood they had milled for the work. In a matter of just six weeks they had a beautiful private spot, surrounded by nature and overlooking a cranberry bog. The best part? It only cost them $4,000. Part of the reason for the low cost has to do with their frugal nature and overall simplicity of the house, opting for no running water (it's gravity fed and they haul it in) a simple hot plate, composting toilet and electricity fed from the main house. They do have a kerosene heater to warm the place up during those cold Connecticut winters, but when it gets a big too cold to stay in the wee house they can always tough it out in front of fireplace in the main house.
It certainly helps to have the skills, land, and initiative to build a house like this and I'd say Dave has all those things and more. The project inspired him to pursue his own business and continue evolving his dreams as he sees fit. You can learn more about Dave at his business page, Herrle Custom Carpentry.