Another fairly straightforward – and straightforwardly beautiful – tiny house from Zyl Vardos! Huge French doors and windows just about everywhere else make Belinda's Little Bird look like the best dollhouse ever as it sits in this snowy Pennsylvania field.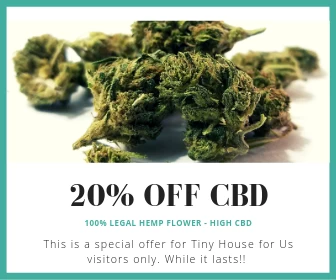 All those windows really open things up once you cross the threshold, too, so it still feels spacious even though there's a lot crammed into one level and not many square feet.
The bed will go atop this platform at the end, under a picture window and above some seriously deep storage drawers.
An oven, farmhouse-style sink, and mini-fridge under the near countertop take up most of the space in the kitchen. The lack of overhead cabinetry might get a little annoying, but given the very small area, leaving it out was probably the best option.
All that snow would put you in the mood for a nice long soak in the ofuro style bathtub! There's a composting toilet across from it.
And, of course, a Zyl Vardos house would hardly be complete without a little stained glass.
h/t Tiny House Talk