Headline image via reddit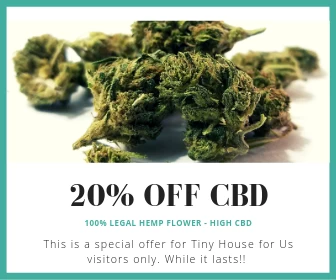 Going tiny means saving space wherever you can. It often means trying to reduce your living expenses too. So buying a dishwasher can feel like an unnecessary luxury. After all, you've barely got space for a fridge and oven. Do you really need a dishwasher?
In fact, dishwashers for tiny houses are cheaper than you might think with many available for around $300. They're also easy to use and set up and can also be more energy efficient than washing by hand. Plus, they're really compact. While standard dishwashers sit around 24 inches wide, you can pick up small dishwashers that are only between 18 and 21 inches wide.
Some sit on the countertop, others have wheels so you can move them around. Then there are those that fit into a drawer, taking up minimum floor space. You can connect these dishwashers to your tap via the faucet, fill them up using a jug and an integrated tank (no need for extra plumbing), or simply run them off the mains supply.
These nifty little appliances save time and energy—especially if you live with family or throw lots of dinner parties. 
So we've picked out the 7 best tiny house dishwashers currently on the market, from portable dishwashers to drawer dishwashers to countertop dishwashers.
But one important thing to consider first:
In a tiny house, you're never going to be that far from your dishwasher. So look for quieter models —preferably ones that operate below 60dB. They're more expensive but worth the price when it comes to sleep quality.
7 best tiny house dishwashers
1. Best overall tiny house dishwasher
Very possibly the most popular small dishwasher around, this hOmeLabs machine ticks all the boxes and is our choice for the best overall dishwasher for tiny homes. It's 21.6 inches wide and 19.6 inches deep, perfect for sitting on a countertop. It has 6 different wash cycles (including an ECO option), and is easy to assemble with both an inlet and drain hose and faucet adapter. It will take you less than an hour to put together.
2. Best countertop dishwasher
Professional Compact Portable Countertop Dishwasher
This compact and portable dishwasher from Faberware is one of the best-rated on Amazon for a reason. Made of stainless steel, it's aesthetically sleek but—more importantly—is very functional, with a 6-place setting capacity, folding down rack shelves, and a cutlery basket. It's quick and easy to install, attaching directly to your faucet, and there are 7 different wash programs. At 21.7 inches wide, it's not the smallest dishwasher on our list but it's a reasonable price and runs pretty quiet too.
3. Most energy-efficient small dishwasher
Stainless Steel Portable Dishwasher
This 18-inch dishwasher is Energy-Star rated, which means it's around 12% more energy-efficient than a standard dishwasher. It can load up to 8 standard place settings, making it an ideal choice ideal for families, and connects quickly and easily to the faucet so no need for a permanent installation or plumbing. There's also a time delay feature so you can program the machine to start at a later point. It's just over 17 inches wide, and with a noise rating of 52 dB, it's not going to keep you awake at night.
4. Best small dishwasher with water tank
Portable Countertop Dishwasher with 5-Liter Built-in Water Tank
If you'd rather not have to deal with attaching your dishwasher to the faucet, then this Farberware dishwasher would be our top pick. It features a 5-liter built-in water tank so no hookup is needed (although there is a hose included if you prefer). It's also only 17.3 inches wide making it one of the best compact dishwashers we've seen. Plus, there's a rapid wash cycle that's just 40 minutes.
5. Best drawer dishwasher
Full Console Drawer Dishwasher
While it's one of the more expensive small dishwashers on our list, this Fisher Paykel machine has the advantage of being a drawer dishwasher so you can slot it into your cabinet set-up, making it the perfect choice for saving space in RVs. The reviews attest to it being super quiet and it's also energy star-rated and can hold up to 7 place settings.
6. Best quiet small dishwasher
Countertop Dishwasher with 6 Place Settings
Another top-rated compact dishwasher on Amazon, this Danby Model has a 6-place setting capacity and operates at just 52 dB. There are six different wash cycles to choose from and you can connect it easily to the majority of kitchen faucets. At just over 21 inches wide, it's significantly smaller than your average household dishwasher and could sit comfortably on a countertop when in use or be stored in a cupboard in between cleaning sessions.
7. Most innovative small dishwasher
Stainless Steel Kitchen Sink Dishwasher Combination
Now for something a little different. A kitchen sink, dishwasher, and fruit-and-veg cleaner—all in one. A futuristic design that's perfect for tiny living, this innovative solution features the brand's patented High Frequency Ultrasonic Turbulence Technology. An in-sink dishwasher eliminates 99.99% of common bacteria and a wash cycle takes only 45 minutes (compared to around 1.5 hours for standard dishwashers), saving you time and money on your energy bill.
Frequently asked questions about tiny house dishwashers
Can you have a dishwasher in a tiny home?
It's definitely possible to have a dishwasher in a tiny home. There are a number of brands manufacturing and selling compact dishwashers that would fit in a tiny home. The question is, is it really necessary? Dishwashers can save time and are more energy-efficient (as long as you only use them when they are full). However, they're also an added expense and you may decide you don't really need one.
What is the smallest size dishwasher?
One of the smallest size dishwashers for tiny houses is the Farberware FDW05ASBWHA dishwasher. We included in our list of the best tiny house dishwashers because it's super compact at just 17.3 inches wide, and can be filled up via a water tank rather than having to be connected to a faucet.
Are small dishwashers any good?
Small dishwashers are just as efficient and effective as larger dishwashers. They also have the advantage of being more affordable than larger dishwashers and sometimes more portable too. The only disadvantage to small dishwashers is that you can't wash as many dishes at once and they can be noisier. Plus, if you're off-grid, you may find your dishwasher drains your batteries quickly, especially if you're depending on solar power.
How do tiny houses get water?
Tiny houses can use a pipe water supply from the municipal water and sewer lines. Another option is to pay for water delivery or use spring or well collection if you live near a natural water source. Or you might collect water via a rainwater capture system. And tiny houses on wheels can hook up to water via an RV hookup or use water tanks with a pump system when moving around.