Tiny homes are known for their small size. But how small are they really? And how do they compare to other types of homes, like apartments or houses? Is living in a compact and smaller space workable? You could have a design that's 300 or 400 square footage like some tiny homes. But would increasing that amount to 600 or 700 be that much better? Well, if you have a family or many pets, a larger tiny house is always ideal. Most tiny houses are big energy reducers compared to other traditional houses. But is tiny home living right for you? In this article, we'll go over advantages and disadvantages that a 700 square foot home has over traditional homes.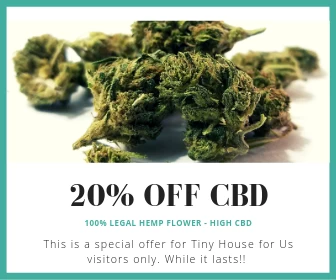 Tiny Homes vs Traditional Houses: Pros and Cons
Tiny Homes Pros:
1. They are more affordable than traditional houses. Your plot of land doesn't have to be large. The average costs are also significantly lower than a traditional home. Tiny homes are a cheaper option compared to typical homes.
2. They use less energy and resources. Your utility costs are much lower with a tiny home. A traditional house has a lot of plumbing and electrical work behind its walls. So, the project cost tends to be higher for these types of homes. Larger floor plans also involve complexities in building materials. Custom materials and other upfront costs also add to the final price of a traditional home. With a tiny home, you're more likely to have less complexity. Since you have a smaller home, your cost savings are massive. The additional costs of a traditional home aren't seen when you're dealing with incredible tiny homes. The cost of living is much more doable.
3. Tiny homes are easier to clean and maintain. Because of your smaller floor plan, you'll spend less on cleaning supplies and less time in actually cleaning your home.
4. They are easier to move and transport. You'll have a home that's lighter than a traditional home. The smaller size and lower weight can help increase your home's mobility. A tiny house on wheels isn't a rarity in the tiny homes movement.
5. They allow you to live a simpler life. The fewer feet of living space forces you to cut down on furniture and unimportant things. You'll soon realize that you don't need huge walk-in closets to store your things – you have all the space you need.
6. They're great when it comes to adding livable space to your current property. If you already own a home with a sizable property with plenty of outdoor footage, you could easily consider building a tiny home somewhere on your lot (while adhering to municipality's bylaws). Building a guest house has never been easier through custom home building.
Tiny Homes Cons:
1. They can be difficult to find zoning approval for.
2. They may not have all the amenities of a traditional home. You'll have fewer storage closets, bedroom footage, and a sizable kitchen. A 700 square foot tiny home is larger than most tiny homes, but you're still on a tight budget in terms of amenities. You have to be conservative and efficient with what little space you have. Your tiny home might not even have a living room.
3. They can be challenging to live in if you have a large family or entertain often. While it's still possible to handle a large family and guests, you'll need to be creative.
4. There's a lack of privacy compared to tiny homes. Most tiny houses are a single story, and the space between rooms isn't very large. Conversations can be heard from across the room.
Two 700 Foot Home Plans Examples
More and more people are considering a smaller home despite the few cons to owning a tiny home. The awesome thing about these homes is that they can come in all sorts of different styles with accompanying blue prints to get you started.
2-Bedroom, 700 Sq Ft Cottage Plan with Main Floor Master:
This plan contains two bedrooms and one bathroom with a great project price. The plan includes information on your home's foundation, main floor, truss diagrams, and other construction details to get you started. The nice thing about this floor plan is that it comes with a porch option. If you're looking to host small parties or barbeques, this plan is perfect.

The above plan is perfect if you still want a place to store your vehicles. With a two car garage and 700 square feet of living space, you get a house plan for two stories and plenty of space to store your belongings. The major downside to this floor plan is that you don't get any formal bathrooms or bedrooms. The schematics include a large loft that can be divided into a living area. This means you'll have to get creative if you're planning on living here. Thankfully, you'll have plenty of space to work with!
So is a 700 Square Foot Tiny Home Right for You?
Tiny home living isn't something to take lightly. While you'll save big on building permit costs and other expenses, you need to consider the following questions:
1. How many people will be living in the space?
2. What are your needs and wants?
3. What is your budget?
4. How much time are you willing to spend on upkeep?
5. What is the climate like where you live?
6. How often do you entertain guests?
7. What are your hobbies and how much space do they need?
8. What kind of furniture do you need and how much storage will you need?
You're ready to decide on a tiny home once you have these questions answered. If your current lifestyle aligns with owning a tiny home, then we encourage you to do so! With so many plans available online, we're positive that you'll find a size and design that's right for you!