It's finally happened. You managed to find the land, secure the financing, and build your very own tiny house. Congratulations! Now it's time to start kitting out the inside. You've already had some thoughts about the best tiny house furniture — but what about space-saving small appliances?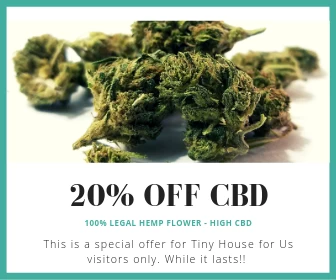 If you haven't checked it out already, you may want to take a glance at our ultimate guide to tiny house appliances. But we understand that a list that size can be pretty overwhelming, and perhaps you're already coming to the end of your budget. 
And so, if we had to narrow it down, which are the absolute best tiny house appliances? What are the 7 best appliances for tiny houses that we just couldn't live without?
Here's our pick of the top small appliances for tiny houses according to how useful, how cost-efficient, and how tiny-house-appropriate they are.
Top tip: keep an eye on the annual Amazon Prime Day deals to see if you can snag a bargain. 
Solo stove
Stainless Steel Portable Outdoor Fire Pit
Most tiny house owners are also nature lovers. After all, with less indoor space available, you're bound to spend more time outdoors. Which is why you need a great outdoor stove courtesy of Solo Stove — a company that is all about reconnecting with nature. 
Solo Stoves are super easy to cook on, using dry twigs and sticks as fuel, and are designed to allow for a more efficient and less smoky burn.
One of our favorite Solo Stove products is the Campfire stove, designed to take your outdoor meals to the next level. Ideal for making everything from s'mores to a big pot of chili, it's perfect for those of you with tiny homes on wheels or vans, parked up in a beautiful landscape somewhere. A fabulous sunset immediately turns a standard meal into some Michelin-starred cuisine. 
For something smaller and cheaper, check out the Lite, an ultralight camp stove that can boil water in under 10 minutes. Or, if you're a fan of grilling, Solo Stove's Grill Bundle includes everything you need for a hassle-free backyard or beach barbecue. 
Check out the Fire Pits too. The dream accessory for any tiny house situated out in the middle of nature and the perfect accompaniment to star-gazing and roasting marshmallows. 
The best inside tiny house stove
1800W Portable Induction Cooktop Countertop Burner
Our favorite space-friendly stove is this tiny house induction cooktop by Duxtop. It's the perfect size at only 11.4 x 13 inches, taking up minimal surface space. One of the best compact kitchen appliances we've found, it's also really lightweight.
It uses a 120V 15 amp electrical outlet — the kind you find in all standard North American homes. The auto-pan detection means the whole unit shuts down after 60 seconds if it doesn't detect any pans or cookware on it so you're not accidentally going to leave it on. And, finally, it's incredibly budget-friendly.
The best tiny house oven
Brushed Stainless Steel Compact Countertop Electric Toaster Oven
Ovens can take up a huge amount of space in a kitchen, which is why, if you're looking for the best kitchen appliances for tiny houses, a compact oven should be top of your to-buy list. 
Our pick for the best tiny house oven is this electric toaster oven by Breville. It's 15 x 17 x 10 inches so compact enough for a countertop but we'd recommend building a shelf where it can sit out of the way.
Plus, this is no average toaster oven. It's a smart oven — designed to heat intelligently across 4 quartz elements, ensuring accurate and stable heat and perfect cooking. What's more, there are eight different cooking functions to choose from, from toast and bake to roast and broil. And yes, you can fit a chicken in here.
Finally, non-stick coating inside the oven makes it super easy to clean.
The best tiny house pressure cooker
Mini Instant Pot Electric Pressure Cooker
Pressure cookers are the dream kitchen appliance for anyone with a hectic 9-5. They take all of the hassle out of cooking, delivering nutrient-rich meals to your plate with hardly any effort required.
This Instant Pot Lux Mini is the perfect tiny house pressure cooker. It may be small (only 11.5 x 10.5 inches) but it has an impressive 6 functions: pressure cooker, slow cooker, rice cooker, steamer, saute, and warmer. This makes it one of the best multifunctional small kitchen appliances we've come across.
Ravenously hungry? Use the high pressure settings to cook food up to 70% faster while also saving energy.
The best tiny house fridge
Stainless Compact Refrigerator
Standard household fridges can take up a ridiculous amount of space but we've found a great solution in the form of this Midea Compact Refrigerator. At 18.5 inches wide and just under 33 inches high, it's much smaller than your average fridge but still has plenty of space to store food for one or two people.
It operates with Energy Star efficiency and has separate fridge and freezer sections. The door is reversible so it can open left or right and fit neatly into any kitchen layout. Reviews also attest to how quiet this tiny house fridge is — ideal if your bedroom is close to the kitchen.
The best tiny house washing machine
Portable Compact Top Load Cloth Washer
Washing machines are big and bulky appliances but who could live without them? If you don't fancy hauling dirty laundry to a laundromat once a week, take a look at this space-saving washing machine from the Panda Store.
It's been designed with small spaces in mind and would work just as well in an RV or tiny home on wheels as it would in a static tiny home or mobile home. 
The washing machine is easy to connect to your faucet using the adapter kit and hoses and it also sits on two building-rollers so you can move it around if necessary.
The quick cycle only takes 23 minutes to complete — ideal if you're in a hurry. It's also fairly quiet so won't keep you away at night.
The best tiny house heater
Small Ceramic Electric Space Heater with Adjustable Thermostat
We've already covered the best water heaters for your tiny house but if you're in the grips of a particularly chilly winter, then you might want to invest in an additional heater. Our favourite tiny-house-friendly heater is this small electric heater by Home Choice. 
Firstly, check out the price — more than reasonable, right? Secondly, this tiny house fridge is very small, at around 7 x 5 x 9 inches. And with three settings — high heat, low heat, and fan — you can also use it during the humid summer months.
Featuring ceramic heating elements, it's faster and more efficient at warming a space than a traditional heater, and ceramic heaters also tend to be more durable.
Finally, the automatic overheat system means the whole thing will shut off when any part of the heater overheats.
The best tiny house kettle
34 Ounce Bistro Electric Water Kettle
When using a kettle, we often tend to boil twice as much water as we need — wasting around 3,525 tonnes of CO2 each day!
One great way to reduce your footprint is to only boil as much water as you actually need — which is why we recommend this Bodum Bistro Electric Kettle.
Thanks to its water level scale, you can measure out the exact amount of water you require by litres, ounces, or how many cups of tea or coffee you're making.
The final say
If you were only going to buy one of these tiny house appliances? We'd recommend the Midea Compact Refrigerator. It's a great half-way house between a standard and mini fridge and we especially like the reversible door that can open from either side.