If you've decided you'd rather build your own tiny house than pay someone else to do it, then first up, good for you! It's not going to be easy but it's definitely going to be worth it—once the hard work is over and you're the proud owner of your own unique tiny dwelling.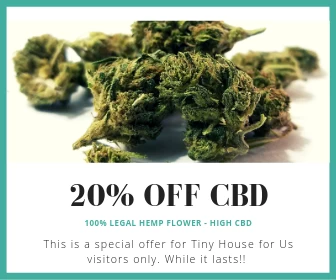 But one way to make the process of building your own tiny house simpler and easier is to download or buy existing tiny house building plans. This saves you the cost of architect fees—not to mention the headache of trying to work it all out yourself.
Tiny house building plans include all the necessary information you need to build your own miniature home, from blueprints and diagrams to material lists, as well as easy-to-follow step-by-step instructions on everything from insulation to roofing. Some even include a list of all the tools you'll need.
You can find tiny house building plans to buy as well as free tiny house plans to download. Here's our rundown of the 7 best tiny house building plans available today. Have a read and choose the one that works best for you.
This tiny house plan from Ana White is the perfect balance between modern and rustic. It was originally built for temporary living in Alaska and is built on a trailer that is 24 feet long and 8 feet 6 inches wide, and can fit around 6 people inside.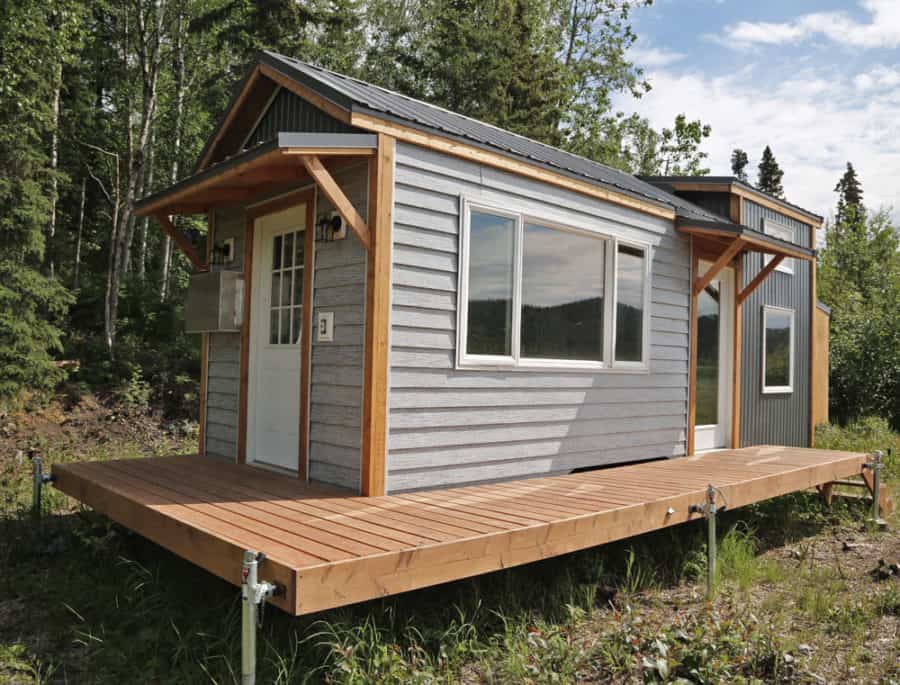 Once built, your home will include a kitchen, bedroom, loft, and lots of useful storage space. The plans include floor plans, diagrams, and building instructions. Ana also has a video tour of the finished tiny house so you can see exactly what you're building. Plus, there's a series of YouTube videos showing each of the steps involved.
These plans haven't been reviewed by a licensed engineer or architect, but as they're completely free, we're not complaining.
Price: free
2. Tiny Home Builders – Backyard Studio: Best backyard tiny house plans 
If you're looking to add an extension to your existing home in the form of a tiny studio or extra bedroom, then these plans by Tiny Home Builders are ideal. As the name suggests, you can slot this studio straight into your backyard. It's a cheap and easy DIY build and small enough to be considered a shed in most places in the US.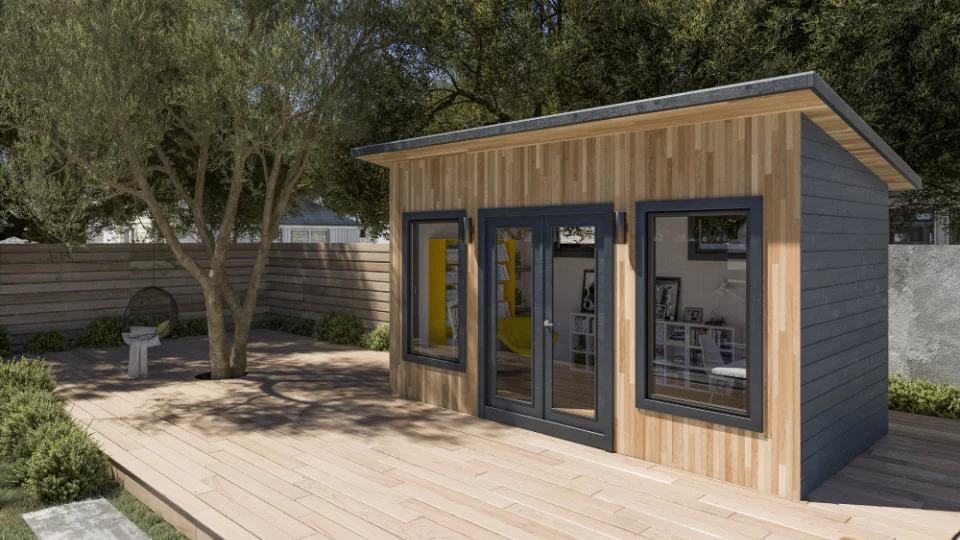 The plans are customizable and have been designed for novices, with a simple step-by-step format, plus 3D rendering, to make it extra easy to understand. A materials list also means you can get everything you need in one trip to the store.
And, as the company has already built this studio, you know they've ironed out any kinks in the build process.
Tiny Home Builders have a range of other plans for sale that are also worth checking out.
Price: $147.00
3. Tiny House Plans – Desiderata: Best spacious tiny house plans
The Desiderata is a great choice for those seeking a tiny house as their primary residence. It sits on a 32-foot x 8-foot gooseneck trailer and features a main bedroom loft space, secondary loft, and open plan living area. Although it's definitely still a tiny house, it doesn't feel at all cramped thanks to the high ceiling and gabled roof.
Tiny House Plans offer several different plans for different kinds of tiny houses so if this one doesn't fit the bill, definitely explore their other models. You can get digital or printed plans and each one comes with a single-build license, a video tour, and approximate cost. You can also modify the plans as necessary to suit your needs.
Price: digital plans for $89, printed plans for $119
4. Smallhousecatalog – Round House: Best plans for an unusual tiny house
This is one of our favorite tiny houses thanks to its innovative design and eco-friendly credentials. Inspired by traditional round dwellings such as yurts, teepees, and igloos—which are known for their efficient heating and cooling—the Round House is the perfect size for a weekend escape and is designed to be off-grid, using solar power to generate electricity. There's also a fireplace and plenty of natural light.
The Small House Catalogue has heaps of other tiny house plans for you to download. Each one comes with 3D rendering, floor plans, construction details, and everything else you might need to start building.
Price: $99
5. Instructables – Gypsy Wagon: Best building plans for a cheap tiny house
If you're on a super tight budget and also have limited building skills, this simple DIY tiny house plan for a gypsy wagon could be just the ticket. The instructions are clear and comprehensive, there's a tools list included, and, in the end, you'll have a cute gypsy wagon to call home.
While not the most professional plans on this list, they'll help you to build an entire tiny home for just $2,000 and in 50-100 hours.
Price: free
6. Pad Tiny Houses: Hikari Box: Best building plans for a tiny house on wheels
The Hikari Box Tiny House by Pad Tiny Houses is 24 feet long with 184 square feet of ground-floor space. There's a 79 square foot loft that can fit a queen bed and another loft for storage or a twin bed. It features fourteen windows and two skylights—hence the name Hikari, which is Japanese for "light-filled." The instructions and construction plans are easy enough for DIYers to follow themselves.
Pad Tiny Houses is one of the most established companies in the tiny house industry and offer a range of plans for different tiny houses for you to choose from.
Price: $99
7. Pin-Up Houses: Gaia Container House: Best building plans for an off-grid tiny house
Pin-Up Houses make building plans for small houses, including tiny houses, sheds, and kids' playhouses. Their DIY house plans feature all the measurements and detailed instructions you need to get building.
The Gaia Container House is made from a 20-foot high cube shipping container and is billed as an experimental self-sufficient tiny house project. It takes advantage of solar and wind energy with solar panels and a wind turbine and also features smart storage, a sofa bed, and an outdoor terrace that can be folded up using a winch.
The plans include a complete set of cargo container cabin plans and CAD set, construction progress and comments, a materials and tools list, and an eBook called How to build a tiny house. The estimated DIY building cost is $21,000.
Price: $190
Choosing your tiny house building plans: what to consider
It's easy to get carried away when looking at building plans, seduced by the vision of building your very own miniature masterpiece. But it's important to be realistic about your resources, skills, and the amount of time you can dedicate to your tiny house build.
Consider your budget and your abilities as a craftsman. What can you afford? What's your experience working with building materials? How quickly do you need to get your tiny house built?
Answering these questions will help you choose the right tiny house building plans for you.