A tiny house community is a village where tiny house dwellers live alongside each other in areas designed for small-living. If you want to bypass the often challenging process of financing a tiny house, finding raw or undeveloped land for sale where you can legally put your tiny house, or searching for a tiny house for sale with land, living in a tiny house community is often a great and more affordable option.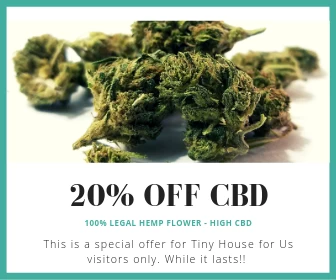 Sometimes these communities function like RV parks. You basically pay to park your tiny home on wheels on a lot with hookup utilities. Other tiny house communities offer tiny homes for sale or rent, as well as plots of land where you can build your own tiny home.
In fact, renting a tiny home in one of these communities short-term is a good idea for those who aren't sure about buying or building their own tiny home yet. Why not try it out before you commit?
Below we outline some of the best tiny house communities around the US, with particular focus on Colorado, Florida, and California — states that are particularly tiny-house-friendly.
Colorado
Whispering Aspen, Fairplay
This tiny house mountain community is only 30 minutes from the famous Breckenridge ski resort and consists of a mixture of cabins, RVs, and tiny homes on wheels — plus some incredible views. Some residents live there permanently, others part-time, and they all have access to climbing, hiking, and horse riding terrain, as well as some of the best fly fishing in the state. Lots are available to buy from $26,900. Residents also pay a $95 monthly contribution towards maintenance.
Image by Whispering Aspen Village
Escalante Village, Durango
This riverfront tiny house community, located near the Purple Cliffs, offers simple small-living in the heart of a natural paradise. Only 15 minutes on a bike from downtown Durango, it's in a convenient location and is designed for current and would-be tiny homeowners. The community has 16 spaces for tiny homeowners and 6 tiny homes available to rent per month. Check out their (very nicely designed) website for more information.
Walsenburg, Colorado
After the city council of Walsenburg, Colorado eliminated the zoning codes that prevented tiny homes from being built, plans for a tiny house community in the area emerged — developed by Sprout Tiny Homes. The tiny village will be Colorado's first tiny home subdivision and will include 32 tiny homes on permanent foundations for sale. Prices are intended to start at $60,000.
WeeCasa, Lyons, Colarado
This tiny house community in Colorado is a good option for those of you who want to try out tiny living short-term before committing to buying or building your own. The community is home to 22 tiny homes and offers per night rentals. A great spot for a wedding or party.
Florida
Orlando Lakefront Tiny Home Community
Formerly a 1950s RV Park, this lakeside community is now open for tiny house dwellers and has space for around 50 tiny homes on wheels. Living at Lakefront, you'll have access to boat and fishing docks, as well as the internet. Plus you'll be just down the road from Orlando. This affordable community is pretty popular and currently has a long waiting list. Check out the community's website for more information.
Image by Orlando Lakefront Tiny Home Community
Gracious Tiny House Park, Okeechobee, Florida
Starting off life in the 1980s as an RV park, Gracious Tiny House Park now welcomes tiny homes and offers residents fishing opportunities, an easy commute to destinations like Palm Beach, as well as access to a pool. Located in southern Florida, the family-owned park offers long-term leases starting at $300 per month.
Circle Pond Tiny House Community
This private tiny house community located in South Hillsborough County is all about living small and surrounded by nature. There are 12 tiny house spaces available to rent on a monthly or annual basis, starting at $450 per month, although your tiny home must be health and safety certified and include an instant hot water system.
California
Lemon Cove Village, Sierra Nevada
Not far from Sequoia National Park is a former RV park that now welcomes tiny house owners. Once finished, the tiny house community will consist of 55 tiny house units and will offer tiny houses for sale and short and long-term lots to rent, with rates ranging from $450 to $595 per month. Residents will have access to the pool, internet, and laundry facilities.
Park Delta Bay, Isleton, California
Located northeast of San Francisco, on the San Joaquin River, this tiny house community can boast of being the only legal tiny house community in Northern California. The lot fee includes water, sewer, communal landscaping, and garbage collection, and you're also allowed to park your tiny house in the community and then rent it out on a nightly basis. However, this tiny house community only caters to tiny homes on wheels and RVs due to legal restrictions, and your tiny house must be RVIA compliant to qualify.
Image by Delta Bay
Tiny House Block, Mount Laguna, California
Situated on the Pacific Crest Trail in Mount Laguna, this tiny house community offers the opportunity to rent a tiny home either long or short-term, with monthly rentals averaging around $1,200. You can also rent a plot of land in the community where you can park your own tiny home. The community is an eclectic mix of different styles of tiny homes, including the 420 House, which is marijuana-themed. Check out the website here.
Other tiny house communities
If you're looking for a tiny house community in other states, here are a few that are worth researching:
Spur, Texas – claims to be America's first tiny house friendly town, encouraging tiny homeowners to head over, build their fixed-foundation tiny home, and settle in.
Traverse Bay RV Resort, Acme, Michigan – developed in partnership with Wheelhaus tiny home building company.
The Sanctuary, Minnesota – adult-only tiny house community offering 6-month minimum leases.
LuxTiny, Lakeside, Arizona – low-impact tiny house community with plots to lease ($300-$400 a month) or tiny houses to buy. Prices start at $59,900.
Lake Walk, Greer, South Carolina – rent a lot to park your tiny home on wheels or lease or buy one of the community's existing tiny houses. Rental rates start at $450 a month.
Green Bridge Farm, Georgia – an eco-friendly tiny house community situated on 25 acres of land with community gardens and orchards. Buy a 1.2-acre lot from $45,000.

Image by The Sanctuary Minnesota
The Final Say
Whether you want to live deep in the heart of nature, near the ski slopes, or by a lake or river, there's a whole range of tiny house communities out there to choose from. Each offers the chance to live alongside like-minded people and enjoy the perks of being part of a community.