A tiny home bathroom is a difficult room to furnish because it's likely the smallest room in your house. What's more, you don't want it to feel crammed full of stuff. It needs to be functional but also aesthetically pleasing.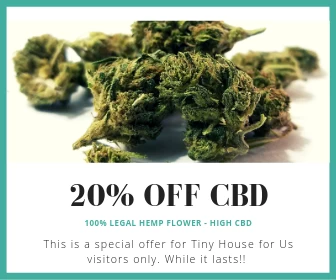 Things get harder, too, if you're living off grid and not hooked up to a mains sewage or water system. Even if you are, you might want to consider more eco-friendly options.
And tiny house owners are often on a budget. You might be looking for cheap bathroom appliances, rather than splashing out on extravagant and expensive bathroom accessories.
Finally, the bathroom gets a lot of wear and tear. The floor can get wet and steam from the shower can cause damage. You need hard-wearing bathroom appliances that will last a long time.
All this requires some creative thinking to create a room that is liveable and that gives you pleasure when you're brushing your teeth in the mornings.
A good place to start? Our rundown of the best tiny home bathroom appliances.
8 best tiny home bathroom appliances and accessories
Shower or bathtub: what is best for my tiny home?
For most people, a shower is a better option than a bath.
If your tiny house is moveable, a bath is going to be a significant weight – although fiberglass tubs are more lightweight. But even if your tiny home isn't moveable, the standard bathtub is about 6 feet long and 3 feet wide. A shower is much more compact.
Plus, showers, if they're kept short, use less water than a bath. Although it's worth remembering that power showers can use up to 136 liters.
If you decide to go for a shower, you have a few options:
A camping shower is good if you're on the road or live in a warm climate. You might even consider building an outdoor bathroom around it. This is also the most affordable tiny house shower option.
This fold out shower is a great invention. The door can be folded against the wall, massively saving on space.
For a classic but compact shower this is a good option, at 32 x 32 inches.
If nothing but a bath will cut it, tiny tubs aka pedestal tubs or freestanding tubs are often smaller. This one is 54 inches, compared to the 60 inches of your average bathtub.
Or what about an inflatable hot tub which you can then put outside.?
If you're looking for something really out of the box, check out this bathtub that fits under the bed. A genius way to add a bit of luxury to your tiny home.
Tiny house toilets
If you're off grid, you'll need something other than a regular flush toilet because you won't have a sewage hook-up.
You'll need something like an RV toilet, which uses minimal water and holds the waste in a tank that can be emptied. This is by far the most budget-friendly tiny house toilet option.
A more eco-friendly alternative is a composting toilet – which could save around 6,600 gallons of water per person per year. Composting toilets also avoid septic systems and treatment plants which are responsible for waterway pollution. This self-contained composting toilet is a great option.
Finally, there's an incinerator toilet. This is significantly more expensive than a composting toilet. It burns waste into bacteria-free ashes that you then dump, making it a low maintenance alternative.
Tiny house bathroom sinks
The average bathroom sink has a diameter of 16 to 20 inches. Anything smaller than this is a win for your tiny home bathroom.
Vessel sinks are freestanding bowls that sit directly on your countertop. They are often smaller than your standard sink and easier to install. They are also pretty stylish. Check out this vessel sink, for example.
Another option is a wall mounted sink, like this one. It's compact and doesn't take up any floor space, creating the illusion of a bigger room.
Finally, what about making your own tiny house bathroom sink? You can turn an old bowl into a sink with a bit of upcycling. As for the pedestal, you could choose any piece of furniture you want. Even an old stool could work.
Tiny house bathroom mirrors
Mirrors are great in tiny house bathrooms. They can make the room seem bigger and create more light. You could even put mirrors all over your bathroom for a serious style statement.
Some tiny house bathroom mirrors that we particularly like are this simple but classic one, as well as this tilting mirror.
For fashion appeal, there's this gold mirror. Or this antique style mirror, to add some retro glamour to your bathroom. Or you could go for this mirror with lights to make your bathroom feel extra big and bright and make you feel like a film star.
Then there's this massive floor to ceiling mirror, which will make it seem like your tiny house bathroom has doubled in size.
Tiny house towel racks
When it comes to storing towels in your tiny house bathroom, the best budget-friendly option is a towel hook or ring. These also take up minimum space.
A towel rack is another good choice. They can be freestanding or affixed to a wall. We like this freestanding bamboo towel rack. There's also this heated towel rack if you want something more modern.
Or why not make your own? This upcycled towel rack is just an old chair. Coat hangers as towel hooks are another great idea.
Tiny house bathroom lighting fixtures
Good lighting in a bathroom can make a world of difference. It can help the space feel bigger and more inviting, especially if your tiny house bathroom doesn't get much natural light.
There are a few different types of lighting fixture you can choose from:
Side-mounted sconces like these are great for creating a soft ambient glow. They are also a cheap tiny house bathroom lighting option.
Pendant lights like these are very elegant and will create a soothing atmosphere in your bathroom
Finally, these downlights are super practical and unobtrusive, taking up no space at all.
The best tiny house bathroom storage solutions
Your tiny house bathroom is likely to be a very small space so you'll need to stay organized. To help you out, here are some great small bathroom storage accessories:
Hooks are a minimalist and cost-efficient tiny house bathroom storage solution.
You could put baskets under your pedestal sink and hang a curtain around it to keep it neat and tidy.
For a seaside vibe, you could tie buckets from rope and hang them from your wall. This is ideal for storing shampoos and hair brushes
Put a shelf over the bathroom door to store towels, making use of otherwise wasted space.
A bar cart is a fun way to store bathroom essentials. You can wheel it out of the bathroom when you need some more space.
Finally, magnetic organizers can work wonders.
The best tiny home bathroom decor ideas
Practical and pretty is the key to any great tiny home bathroom.
Add a few plants here and there. Studies have shown plants reduce stress and clean the air. Plus they give your bathroom a cool outdoor vibe.
Candles neutralize odors and create a relaxing atmosphere. But heavy scents can be overpowering. Instead, opt for clean and refreshing aromas.
Choosing tiles for your tiny house bathroom is an opportunity to let your fashion flair run free. Why not opt for something fun and unique, like this under the sea mural?
The best examples of great tiny house bathrooms
This tiny house bathroom shows that you can live a life of luxury – even if your bathroom is on the small side. Just look at the size of that bathtub.
This tiny house bathroom also has a bathtub – but it's a super small one. They've also made good use of a bowl as a sink.
Why not turn your whole bathroom into a wet room? That's what they've done in this tiny house bathroom, and not only is it space-saving, but the effect is pretty cool.
Here's another wet room bathroom in the tiniest of trailers.
Finally, for the ultimate in miniature bathrooms, check out this tiny house, where the sink and toilet fit snugly into cupboard-sized spaces.
The final say
Tiny house bathrooms can pose a few challenges. But with some clever design hacks and these space-saving and stylish tiny home bathroom appliances, you'll have a bathroom where you can actually enjoy performing your morning ablutions 😉
For more inspiration for tiny home appliances and bathroom accessories, check out our ultimate guide.