Living in a tiny house doesn't mean you should sacrifice your comfort. As tiny house living becomes more and more ingrained in our society, technology is improving to match tiny home-owners needs. Your tiny home needs an excellent ceiling fan to keep you cool from the summer heat after a long day adventuring. Ceiling fans are an eco-friendly way to cut down, and perhaps eliminate, the need for air conditioning in your tiny home. This blog post breaks down our top ten favorite tiny house ceiling fans.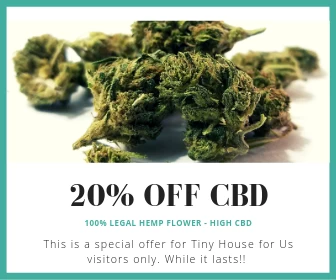 1. Emerson Prima – The Energy Saver
Low Profile Ceiling Fan With Wall Control
Emerson has over 100 years of experience in the fan industry. They create tasteful fans with eco-friendly designs. The Emerson Prima is likely the most eco-friendly fan on the market. It cools rooms up to 225 square feet, which is perfect for tiny home owners. It has an airflow efficiency of 89 (airflow by power used) which is really good. If keeping an eco-conscious home is at the top of your priority list, the Emerson Prima is a highly effective option for your tiny home.
2. Minka-Aire Artemis – The Showstopper
Smart Ceiling Fan with Light Kit
The Artemis is large and incharge. The Artemis is able to cool 6,452 cubic feet of air every minute. With this fan, you'll likely eliminate the need for air-conditioning in your tiny home. Plus – it looks really good. It's large blades are decorated with a distressed koa finish and would compliment any tiny house aesthetic. It is a larger design, but depending on your tiny home layout this option will be highly effective in cooling the entire house. Additionally–are you a tech nerd? This show stopping fan allows its controls to be mounted on your wall with the ability to dim lights and reverse air flow, and has LED compatibility for that eco-friendly touch.
3. Dempsey – The Crowd Pleaser
Low Profile Ceiling Fan with LED Light and Remote Control
The Dempsey is a classic ceiling fan with mass appeal. It's 44-inch blades are a strong candidate for small rooms and tiny house living. In addition to dimming and LED light capabilities, the Dempsey offers three speeds, and a reversible motor. Reversible motors are key for keeping air cool in the summer and maintaining warm air in the winter. Additionally, the Dempsey's remote control panel can fit over an existing light switch – so you never have to worry about misplacing your fan remote again!
4. Minimus Low Profile – The Low Baller
Matte Black Finish Low Profile Indoor Ceiling Fan
If your tiny home has low ceilings and extra tight spaces, then the Minimus Low Profile is probably your best choice. It's designed to be flush with ceilings, and not take up much real estate in your home. The design is simple and classic to fit in with almost all tiny home styles. It has a three-speed motor to keep your home comfortable while not intruding on space. The fan is remote controlled and an eco-friendly LED light kit is included.
5. The Hepburn – For the Audrey in All of Us
Modern Brass Indoor Ceiling Fan
If you're daydreaming of Breakfast at Tiffany's or a party at Jay Gatsby's then the classic Hepburn fan is for your home. Its elegant designs allude to the roaring 20s. It offers an incredibly quiet and reversible three-speed motor while still providing excellent circulation. Its dimmable LED lights offer you the ability to create the perfect ambiance in your space while still being eco-conscious. Add a bit of style to your tiny house with the Hepburn.
6. Emerson Pro Series II – The Budget Friendly
Oil Rubbed Bronze Finish Indoor Ceiling Fan With Light
The Emerson Pro Series II is an affordable option that still produces quality results. It's a powerful fan that is easily able to circulate air throughout your home. However, due to its 50 inch size and energy consumption it's one of the least eco-friendly models on this list. The fan comes with a four-inch downrod, but has the essential tiny house capability to be mounted flush with the wall on lower ceilings. Emerson offers an appealing limited lifetime warranty on this piece
7. Quorum 92413-65 – The Outdoor Fan
Don't let the name fool you – tiny home owners have used this intimate fan for successful indoor use. The 13-inch piece is a small yet effective fan for cooling intimate spaces. It offers three speeds with a wall mount, and creates a retro vibe for your home. Plus, you can get a matching outdoor fan for your deck!
8. Minka-Aire F846-WHF Wave II – The Only Fan
This minimalist option is all fan and no lights. If minimalism is what you're looking for, the Minka-Aire is your ceiling fan of choice. It has curved blades that allow for effective air-flow, and has great reviews from folks across all sorts of tiny homes.It is an energy-efficient option, has speed control and a remote wall mount for easy access. It is one of the larger fans at 60 inches.
9. Savoy House Alsace Fan – Retractable
Downrod Mount Chestnut Blade Ceiling fan
The 26-inch Savoy House Alsace fan is often used in smaller rooms of full-sized homes. However, its style and size is a solid option for bringing a unique look and effective airflow to your tiny home. When the fan is turned off, the blades retract to create an impressive and stylish light structure. Its industrial look comes from raw materials, metal, and wood.
10. Glimour Indoor/Outdoor – Take Me Indoors or Out!
Similar to the Minimus Low Profile, the Glimour is designed to fit flush against ceilings no higher than 9 feet tall. Its clean looks will complement any space, and its reversible motor is good for all seasons. It's WhisperWind motor will ensure an undisruptive cool. This fan is also able to be mounted outdoors if you wish to match your indoor space with a deck.
So there you have it! We know that no two tiny-homes are the same, and we hope this list will give you a starting point in finding the perfect cooling system for your property. There are options for all budgets, styles, sizes, and more. Keep in mind size, airflow efficiency, control options, and LED capabilities when selecting the perfect ceiling fan for your tiny home.