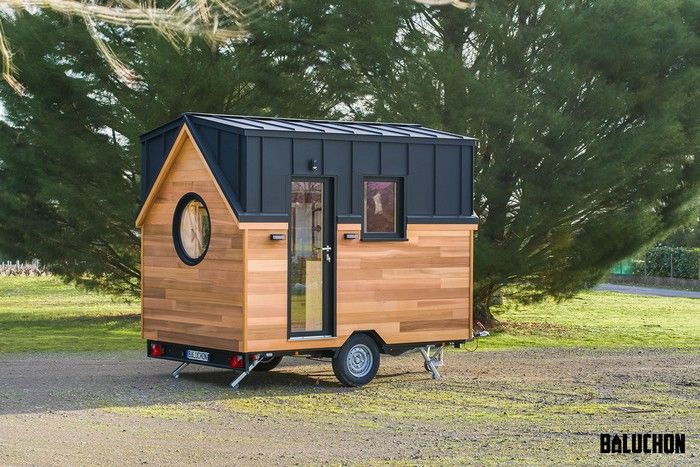 Otherwise known as a chassis, a tiny house trailer is a pivotal part of your tiny house on wheels and its design affects how easily you can tow your home around. In the past, if you wanted to build a tiny house on wheels, you would have to make your own trailer.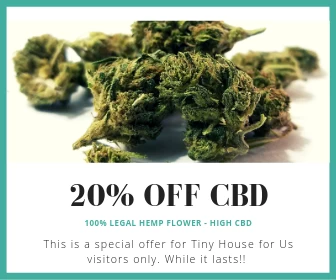 Making your own tiny house trailer is a lengthy and costly process, involving a lot of effort, trial, and error. Luckily, these days, you can simply employ the services of a tiny house trailer manufacturer, saving you time and money.
But now you have a different problem. How to choose the best tiny house trailer? How to decide on who the best tiny house trailer manufacturer is?
Here's our fool-proof guide to choosing from the best tiny house trailers out there.
How to choose a tiny house trailer
Avoid upcycling
As great and eco-friendly as it might sound, using an old caravan or flatbed trailer isn't the best idea when it comes to your tiny house chassis. Caravan trailers don't support wooden structures very well, nor do they have a very high gross weight limit. Similarly, flatbed trailers are too high and featured leaf springs which can be unstable when driving.
Recycling used tiny house trailers also involves a lot of work, from welding new parts to sanding, and replacing tires and axles. It's better to spend more money on the trailer and save yourself the headache. After all, this is the foundation of your entire house.
Choose the right type of trailer
There are three different types of tiny house trailer:
Gooseneck trailers – these have a long 'neck' and offer increased stability and minimal sway. They can also carry a greater weight but are more expensive than bumper pull trailers.
Bumper pulls – these connect to your vehicle via a ball coupler near the rear bumper. These are the most popular trailer types for tiny houses thanks to their affordability and the fact they allow for a traditional house shape.
Deckovers – these are similar to bumper pull trailers except the deck is raised above the fenders so the top is completely flat. This means the overall height of your tiny home needs to be smaller.
Choose the right size and shape of trailer for your tiny house
You need a trailer that will fit with the design of your tiny house and isn't too long or narrow. Not all trailers allow for tiny houses with a loft so check that it will provide adequate support. Remember that the bigger your tiny house, the more it will weigh, which may mean you need a heavy-duty towing vehicle rather than a regular car. Toll rates can also increase per number of axles.
Check the certificate
Any tiny house trailer needs an approval certificate if you want to get it insured for driving your tiny house on wheels on the road. Ask to see this certificate before purchasing the trailer.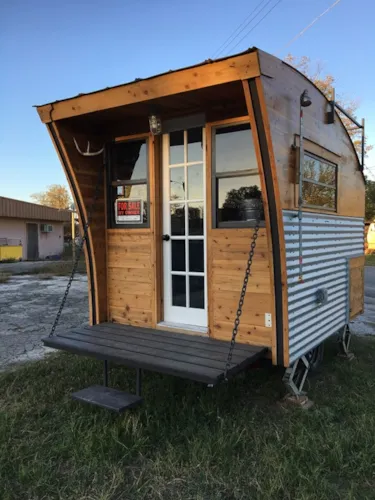 Check the GVWR.
The GVWR is the gross vehicle weight rating, and it needs to be more than the estimated weight of your finished tiny house. Always overestimate to be on the safe side.
Check all other important features
Any good tiny house trailer will feature the following:
High load radial tires – these offer improved durability and maneuverability on the road.
Emergency brakes – obviously you need to be able to stop your tiny house in an emergency.
Running lights – these can be used at night to make sure people can see you.
Minimally curved fenders – this makes them easier to cut around and seal.
Steel decking – this is preferable to wood decking as it's more durable.
Read the reviews.
See what people are saying about this tiny house trailer manufacturer. Do the trailers last a long time? Are they good value for money? What's customer service like? And if you can get recommendations of particular tiny house trailers manufacturers from tiny house dwellers, even better.
Best tiny house trailers
These companies make custom tiny house trailers, designed to your specifications.
One of the best places to buy a tiny house trailer is from Tiny Home Builders. They design and build tiny houses so you can trust them to also make great trailers. Their trailers are designed with safety as a priority and are made of heavy-duty materials, including hard-wearing axles, high load radial tires, and durable steel beams instead of wood decking. The design also features the optimum number of connection points so you can securely attach your tiny house to the trailer.
Their trailers come ready for you to build directly on to them, which means no time wasted. They are also affordable.
This tiny house company makes tiny houses and trailers for tiny house dwellers in both the US and Canada. Joshua and Shelley, the pair behind the company, have extensive experience in building tiny house trailers and tiny houses and can offer insight into what would work best for your unique tiny home.
Each trailer is custom-built according to your specific needs and plans. Lengths vary from 12 feet to 56 feet. They make their trailers in California, Alabama, Pennsylvania, and Oregon.
Tumbleweed makes and sells tiny houses, and also sells tiny house plans and shells, as well as trailers. The company's trailers are designed to make the process of building a tiny house faster, more efficient, and easier. You can pick from four different trailer sizes and choose between different porch configurations as well—no porch, corner porch on left or right, or full porch. They come with threaded bolts for attaching your tiny house frame and the company also offers delivery for a fee of between $500 and $1500.
Trailer Made makes tiny house trailers in three different styles: bumper pull, gooseneck, and deck over. They can be made from 12,000 GVWR to 28,000 GVWR and in lengths from 12 to 44 feet in standard or wide configurations. Their trailers meet the demands of codes and regulations but will still feel unique to your specific tiny home. You also get a lifetime guarantee on the chassis.
Tiny Idahomes is a family-owned company specializing in tiny house building. They also make trailers for tiny houses. The trailers come in a range of lengths with 5-inch x 2-inch tube steel mainframe. They also have electric brakes, 7-way RV standard wiring, LED lighting, anti-leak fender edges, stabilizer jacks, and a galvanized bottom, to name a few notable features.
Wrapping Up
Choosing and buying a trailer for your tiny home is easier than ever before with more and more manufacturers custom-building tiny house-specific trailers. These five tiny house trailer manufacturers are our top picks when it comes to a chassis for your tiny home on wheels, but you can also do your own research using our guide to choose the trailer that's right for you.
Then all you need to do hit the road and head off to your chosen tiny house community or to your own private plot of land.
Headline image by Optinid