A hot shower or bath is one of life's little but most precious pleasures. And so, if you're building a tiny house, you need a reliable water heater. But how to choose the best water heater for your tiny bathroom?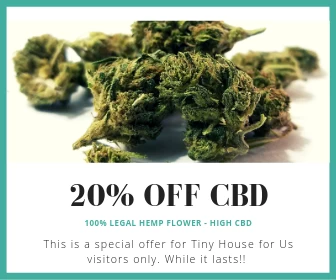 There are various options on the market to suit the different needs and preferences of tiny house dwellers, whether yours is a static tiny home, a tiny house on wheels, or an RV.
From traditional storage tank heaters to electric, tankless, and on-demand water heaters – as well the latest in solar-powered water heating systems – there's a lot to get your head around.
You need to weigh up considerations of cost, efficiency, and how long you want your small hot water heater to last. We've compiled all the most important information about tiny house water systems below so you can make an informed decision.
Tankless vs. traditional water heaters: what's the difference?
Electric tankless water heaters: pros and cons
Natural gas and propane water heaters: pros and cons
The best water heater for RVs
What about solar-powered water heaters?
Could a wood fire heat the water in your tiny home?
The Summary
Tankless vs. Traditional Water Heaters: What's the Difference?
Tankless Water Heaters for Tiny Homes
As the name suggests, a tankless water heater – or on-demand water heater – doesn't store hot water in a tank, but heats water instantaneously using a high-powered burner.
Providing hot water as soon as you want and need it, a tankless water heater is clearly the most convenient choice for your tiny home.
They also make sense in terms of design. Small and lightweight, they're a great space-saving solution for tiny homes, especially tiny homes on wheels.
Tankless water heaters also have a smaller footprint – ideal if you're trying to live a more eco-friendly lifestyle. In fact, they have been found to be around 22% more energy-efficient than gas-powered storage tank heaters.
These small hot water heaters also tend to last longer than storage tank heaters – over 20 years, usually.
However, they are also more expensive to install than a traditional storage tank heater – even if, in the long run, they cost less to operate.
Traditional Storage Tank Water Heaters for Tiny Homes
Storage tank water heaters are the kind of water heaters you'll find in most conventional houses and involve an insulated tank that holds around 40 gallons of hot water.
These traditional hot water heaters are usually cheaper to install, and maintenance and repairs are also typically less expensive as the water system isn't as complex as a tankless heater.
However, these costs are quickly negated by the fact that storage tank water heaters use more energy because they have to keep the water warm at all times. Plus, they often don't last as long – about 10 to 15 years – and can be heavy and occupy a lot of space.
When it Comes to Tiny Homes, Tankless is the Way to go…
Except for the initial cost, it's clear that a tankless water heater is the best choice for tiny homes.
Next, you need to decide between electric and natural gas or propane-powered water hot water heaters.
Electric Tankless Heaters For Tiny Homes: Pros And Cons
People are initially drawn to electric water heaters because they are often cheaper to buy. However, this smaller initial outlay must be weighed up against the fact that they use a lot of power to run and typically take longer to heat the water than a gas-powered heater.
Plus, if you're off-grid, having access to enough electricity to run your hot water heater might be a problem.
Nevertheless, there's no danger of a gas leak with an electric water heater. Plus, they're easier to install yourself than a gas-powered water heater.
Our Pick For The Best Tiny House Electric Tankless Heater
This top-rated tiny house water heater offers on-demand and unlimited hot water in a sleek and space-saving design, with no venting required. Reviewers promise that it's fairly easy to install yourself.
Natural Gas And Propane Water Heaters For Tiny Homes: Pros And Cons
The alternative option when it comes to heating water in your tiny home is a natural gas or propane heater.
These require a higher upfront cost than an electric heater but this is generally offset by the fact that they are highly efficient and very reliable, unlikely to break down.
Gas water heaters also tend to heat water faster than electric-powered ones because of the way the gas combusts.
However, these heaters are more difficult to install yourself, especially if you opt for natural gas, which will involve maneuvering gas lines.
Natural gas or propane?
Propane comes in liquid form and is sold in portable canisters that you can pick up or get delivered – although relying on delivery may become problematic in the event of bad weather, for example.
Natural gas is delivered via a pipeline, which can be time-consuming and expensive to install if you don't already have access.
Our Favorite Natural Gas-Powered Water Heater For Tiny Homes
Rinnai V65IP Tankless Water Heater
As with every tiny house appliance, smaller is better, and this water heater is the size of just a small suitcase. It's also one of the most affordable tiny house water heaters, and is designed to make any repair jobs simple: all components can be easily swapped if necessary.
The Best Propane-Powered Water Heater
This tiny house water heater has automatic gas modulation so it can self-adjust based on different water flows and water temperatures. This allows it to stay consistent through all weather conditions. The built-in freeze protection also makes it a great choice for chilly climates.
This system has been designed specifically for RVs, trailers, and tiny houses, which explains why it's such a popular water heater within the tiny house community. It weighs only 26 pounds – a bonus if you have a tiny house on wheels. Plus, it has an 80-degree temperature increase capacity – ideal for when winter rolls rounds.
The Best Water Heater For Rvs And Mobile Homes
If you're looking for a water heater for your RV or tiny home on wheels, then you want something compact and lightweight.
Our Favorite Water Heater For Rvs And Moveable Tiny Homes
Coming in a pretty neat size, this one also has a fast recovery time – so no waiting around after your partner used up all the water. The combined gas/electric option means you can charge up at campsites to get enough energy for around 6 additional gallons of water.
Solar Water Heater
An alternative to conventional water heating methods is solar power – a no-brainer if being environmentally friendly is your biggest priority.
If your tiny home receives enough sun every day, a solar-powered water heater can provide hot water on demand. Plus, most solar-powered water heaters also come with a backup gas-powered system so you'll never be caught out.
The Best Solar Water Heating For Tiny Houses
This water heater offers users an efficient and eco-friendly means of heating water quickly – only requiring a few hours of direct sunlight a day. However, it is also the most expensive tiny house water heater on our list.
Wood-fired Water Heater
Finally, there's the old-fashioned option of heating water via a stove. Using copper coils to circulate the water with a convection current, this system requires no pump and can be constructed by hand.
The DIY element, and the fact that wood pellets are cheap and easily accessible, make this a compelling choice.
Nevertheless, it's not the most convenient way to shower as you'll have to wait while the water heats up which can take a while
The #1 Water Heater
We think the best water heater for tiny homes is the PrecisionTemp RV-550 NSP Tankless Water Heater. Many tiny home dwellers and bloggers have attested to the superiority of this particular model. With freeze protection, high levels of efficiency, a compact size and weight, plus a self-modulating gas and temperature function, this heater has definitely won our vote too.