Colorado is being sought after for residency a lot in the United State for some time now because of its outdoor lifestyle and growing economy. Tiny homes and a low budget is no excuse for a cluttered home in Colorado. Here are some of the ways you can create space in your tiny Colorado house without making compromises.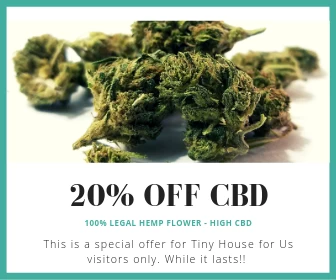 Invest in furniture that has multiple uses
Investing in furniture that has multiple uses is the best idea for small spaces. Everyone knows what a futon is, it is best for sitting as well as storing things. You can also invest in a heavy couch that can open up as a full-size bed, which works perfectly for small houses. You can also use folding tables and chairs as furniture in the dining room and bedrooms when required. Research thoroughly for the best tiny home furniture for your home before investing.
Utilize the space under the stairs
If your small Colorado house has floors then it is best to use the space under the stairs as the storage area instead of closing the area. There are multiple ways you can use under stairs storage. Apart from the area below the whole set of stairs, you can also ask the architect to make the stairs in such a way that each stair can have its own storage area.
Use the wall
The walls of your tiny home can be used in multiple ways instead of just hanging pictures. Using a built-in bookshelf in the wall should always be preferred instead of adding a shaved bookshelf. If you have foldable furniture, you can use the wall to store them when not in use. Instead of layers and layers of racks, you can install little bars to hang frequently used utensils in your kitchen. This way you can save counter and cupboard space. Mount your paper towel on the wall instead of having the counter towel.
Doors and doorways space
Adding hooks on the back of the door can help you hang things requiring counter space. You can use those to hand the worn clothes instead of "the chair" and even hang jewellery, towels, and utensils; depending on the location of the door. The space just above the doorway till ceiling can be perfectly used for storage space. You can add shelves to store books, baskets, and other knick-knacks.
Don't clutter counters
Cluttered counters in already tiny homes make the space look smaller. To give away the illusion of a larger space, keep the counter clean and decluttered. Using shelves to store things instead of countertops will make your space look more organized. Organize the counter in a pattern (ascending or descending depending on the size of the things), which will help you remember the placement as well as make your space look more put together.
Use lights at your advantage
Having a closed-up tiny home can sometimes be claustrophobic especially for Colorado homes. Having an ample flow of natural light in your home will make your space more calming as well as give an illusion of a larger space. For such a home, use black-out curtains which will keep the lights out when required. If you don't have easy access to ample natural light, install brights and warm artificial light in your living space. You can use artificial lights to your advantage in tiny homes. The lights paired with light-colored walls give the illusion of larger rooms and living space.
Choose the color scheme
The best way to make your living space look larger is by choosing the perfect color scheme and patterns for walls and furniture. Use lighter and brighter colors for the walls of your tiny home which can help reflect light and make your area seem bigger than it is. To go with the light colors of the wall, you can choose a dark color scheme or wooden finished furniture for your house.
Use corners
Corners are usually ignored and not thought after. You might have noticed the corner of your rooms are usually empty and sit in such a way that cannot be used extensively. For this, corner tables are perfect, you can use that as your office space in these "work-from-home" times and even as a "calming" corner where you can sit and have alone time with your thoughts. If you already have an office space, use the corner by installing corner cabinets and tabletops for your things.
Floating furniture
For small spaces, adding floating furniture works best with storage as well as multiple uses. It gives the illusion of larger space and makes the floor area appear spacious. Wall-hung cabinets also fit well with the finishing of small living space and the floor does not feel cramped up. A floating table for the living room also works best because of its under-storage space. It gives off a chic vibe along with making it space-friendly.
Insurance
In this day and age, you need to be prepared for the worst-case scenarios. However, finding Homeowners insurance that is widely spread for a tiny colorado house is a tricky affair. You can easily find a regular home insurance policy provider in your area and compare plans and pick the best one for you. But for a tiny home, you've got to be a little creative. But remember, to help with the damage which might occur in case of any accidents or natural calamities, you need to have your home insured—so it'll be ideal for you to dive deep into the market and find an insurance provider tailored for your tiny home's unique needs. With reliable insurance coverage, you and your house will have a safe space to fall onto monetarily in case of damages.
Bottom line
Cluttering is a huge no-go for living spaces especially for that of a tiny home. To make your tiny colorado home feel more spacey and open, you need to thoroughly plan the layout. Keep in mind to make use of every open space with a little something that will also work well with aesthetics. With the limitation of space, it is important to focus on the resources you can use to make the most of the square footage you have.