Headline image by Homes To Love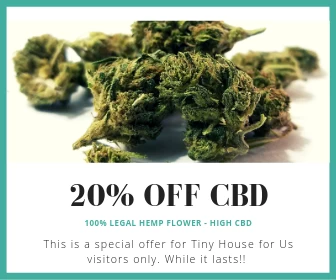 As saving space is number one priority in tiny houses, you've probably already decided that a shower is preferable to a bathtub when it comes to your tiny house bathroom. But that hardly narrows it down. You still need to decide what kind of tiny house bathroom shower is best. So we decided to put together the best tiny house shower ideas.
And given that we spend on average 13 minutes in the shower each day—which adds up to 4,745 minutes a year, or just over 3 days—you want to make sure you get it right. 
Do you want to convert your bathroom into a wetroom so that the whole space is a shower? Maybe you want a tiny house bathroom shower that also functions as a bath-tub? Or maybe you're looking for something that feels straight out of a spa, like a Japanese soaking tub? And have you considered putting your shower outdoors?
To help you on your search for the best tiny house shower idea, we've put together a list of the 7 top tiny house shower designs. These are the best ideas for small showers for small spaces that we've come across. Happy showering 🙂
Our Favorite Tiny House Shower Heads
1. Keep it compact with a corner shower
This one is a classic—both in tiny homes and standard homes. Corner showers make the best use of space and you can make them really, really small.
Check out this small corner shower, for example, with its stylish tiles. A glass door also has the advantage of not being transparent and therefore not making the space feel cramped.
For an even better space-saving corner shower, check out this design. It's literally just a corner of the room with a glass door that doesn't even extend to the ceiling, making the room feel extra spacious and airy. Definitely one of the best tiny shower ideas.
2. Embrace the water with a wetroom
If you're looking for a doorless shower design for small bathrooms, your best bet is a wetroom—one of the best small shower room ideas. These are perfect for really tiny bathrooms. With the entire room waterproofed, it's a really effective use of the space.
For example, this small but sleek bathroom by Pad Tiny Houses where the showerhead simply slots into the corner.
Or, for an ultra-modern industrial-chic aesthetic, check out this walk-in shower with black tiles and a wooden floor grating. Definitely up there with the most stylish tiny shower ideas.
3. Go rustic with just a tub and a rail
If you have a knack for upcycling—or simply want to keep it budget-friendly—all you really need to make a tiny house bathroom shower is a tub or trough and a rail to hang a curtain from.
In fact, this one doesn't even have a curtain. The wooden tub slots neatly into the small space and the back-to-basics shower head completes the rustic aesthetic.
You can pick up galvanized metal troughs on Amazon for next to nothing. Or why not consider cutting an old oak barrel in half to use as your shower basin? 
4. Best of both with a shower-bath combination
If you don't fancy giving up on the idea of a bathtub completely, you can get the best of both worlds with a compact shower-bath combination, like this one—a deep tub underneath the window with a shower overhead.
5. Sneak in a shower under the eaves
Trying to fit a shower into an awkward space? When you're considering your tiny house bathroom layout, take inspiration from this room where the shower has been neatly slotted in under the eaves of the roof. It gives purpose to a corner of the room that might otherwise go unused.
6. Get plenty of fresh air with an outdoor shower
Depending on the climate where you live, an outdoor shower could be a brilliant option. If your tiny house is particularly tiny, being able to save on space by putting your bathroom outdoors is a smart move.
Outdoor showers are easy to construct. This one simply has decking with a collection tray underneath. But if you plan to let the water soak directly into your garden, make sure you use only natural and organic shampoos and soaps.
There's something wonderfully tropical about showering amongst all the plants.
But if you've got a tiny house on wheels and are frequently on the move, you probably don't fancy constructing a permanent outdoor shower. In that case, this portable battery-powered shower by Ivation is a great choice, with high ratings. 
7. Relax in style with a Japanese soaking tub
This one is for those of you with a taste for life's finer things. True, it's not technically a shower but it takes up the same amount of floor space so we felt we could include it.
A Japanese soaking tub—aka an ofuro—is a deep tub where you can submerge yourself totally in water for ultimate relaxation. It's meant to mimic the sensation of soaking in Japanese hot springs.
Choose between wooden soaking tubs or metal ones and install them with a showerhead above if you want the choice. This one actually belongs to actress and singer, Bette Midler.
And if you'd rather something temporary that you can stack away after you've enjoyed a soak, check out this blow-up tub on Amazon for under $50.  
How do showers work in tiny houses?
What kind of tiny house shower system is best?
The type of shower you have will depend on the kind of water heater you have. But, as we explain in this guide, tankless water heaters are the best option for tiny homes as they use less energy and are small and light. 
You can actually buy tankless water heaters that come with the shower head attached, making for quick and easy installation in your tiny house. Tankless showers like this one by GASLAND feature an in-built heating device, giving you hot water on demand. This one is designed to be used on camping trips and outdoors so it's particularly compact and lightweight. 
Where do you get your water from in a tiny house?
Depending on where the land is for your tiny house, you might be able to hook-up to the grid. This will guarantee a quick flow rate. Or you can use an RV-style water hose and connect it to an external tap point. This is the best water source option for tiny houses on wheels. 
If you're off-grid, you can use water containers and get water from a clean water source or collect rainwater or natural spring water.
The final say for the best shower
From upcycled wooden tubs to showering in the great outdoors, there's a whole range of tiny house shower ideas out there. Get your morning splash without taking up any space at all. And once your tiny house is built and the shower is ready to go, you can then consider these nifty tiny house bathroom appliances and accessories.