Headline image via Local Home Builder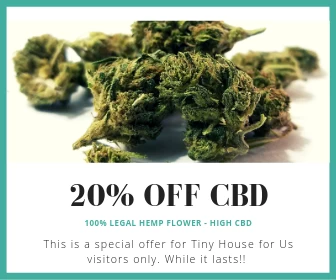 Being self-reliant and never receiving a power bill again sounds pretty good to us—how about you?
That's part of the appeal of solar panels. Solar energy is eco-friendly, increasingly affordable, and has a fixed cost i.e. that of your initial investment. After all, there's no risk of price hikes when it comes to sunshine. And with grid-tied solar panels, you can even earn money by giving power back to the grid.
So whether you're a tiny house dweller, proud skoolie owner, or van lifer, investing in solar panels could be a great option.
That said, solar panels are a significant initial outlay—one that you'll have to factor into the overall cost of buying or building your tiny house. Plus, choosing the right solar panels for your living setup can be tricky. There's lots of complicated technology to wrap your head around—and lots of options on the market.
The bonus of solar panel kits is that they come with all the necessary accessories and parts, including panels, charge controllers, and inverters—although not always batteries.
So we've selected the 5 best solar panel kits available today, including the cheapest solar panel kit, the smallest solar panel kit, and the best kit for those who want to stay hooked up to the grid.
A few tips for your solar panel search?
Make sure the kit you buy has a good warranty. And remember that a tiny house roof is typically quite small so can't accommodate that many panels. A ground-mounted solar array is a better choice as it's also easier to clean the panels and position them for maximum sun exposure.
5 best solar panel kits for your tiny house
1. Best overall solar panel kit for tiny houses
This is our pick for the best all-purpose solar panel kit.
It's suitable for most tiny homes and RVs and those households with moderate power needs. While not the cheapest solar panel kit around, it's our favorite thanks to its superior efficiency and the fact it comes complete with the fuses, wiring, controller, mounts, panels, and all the necessary bolts and screws. And it will generate enough energy to power most of your appliances, including a refrigerator.
The kit is easy to install, making it a good choice for beginners. Plus it comes with monocrystalline panels—more efficient than polycrystalline ones.
Another bonus? If you find you need additional power at a later date, you can add extra solar panels later on. And Bluetooth connectivity means you can monitor the entire system remotely.
2. Best value solar panel kit
WindyNation 400 Watt Solar Kit
If you want to invest in solar panels but you're on a tight budget, then this kit by WindyNation is our top choice for an affordable solar setup. It has all the basic elements you need for a simple solar installation, is reliable, comes with decent warranties, and provides 1.6 KW per day—enough power for a van, RV, or for smaller tiny houses.
You'll get high-quality polycrystalline panels, as well as a 30-Amp charge controller with a battery temperature sensor, a solar cable, and all the necessary connectors, mounting hardware, and installation manual.
Those with vans, skoolies, RVs, or THOWs need a solar panel that's fairly compact and portable. Our top choice is this one by Goal Zero. Despite being small enough to transport with ease, the system can power up to 7 devices at once—ideal for charging phones, tablets, laptops, and other small electronics. It could also work as backup power for small household appliances.
The panel itself is built from hardy tempered glass with an aluminum frame and an integrated kickstand means you can position it as necessary to get access to the sun. But our favorite thing about the Yeti 400 is its simplicity. You just plug it in. No need to stress about charge controllers or regulators.
4. Best large solar panel kit
For larger tiny homes, you need a serious solar panel kit that's up to the task of powering all your appliances. This one by Renogy is the perfect choice for remote tiny homes that are totally off-grid, offering a huge power output of 3600 watts with 12 highly efficient 310-watt polycrystalline panels.
The kit includes everything you need apart from the battery packs while the MPPT charge controller is one of the safest on the market. It will shut down automatically in the event of any weak points being detected, safeguarding your home against electrical fires.
Plus, a voice-guided system will walk you step-by-step through the installation process.
5. Best grid-tied solar panel kit
It's certainly not cheap but this advanced solar panel kit is the best option for those looking for a grid-tied system so they can send any unused energy back to the grid and earn credit.
Any grid-tied system needs to be UL certified by law and this one is. Plus, with six 240 watt solar panels that can be attached to either your roof or mounts, it's easy to set up and is capable of producing 3000 KW of energy each year. What's more, the panels have a 25-year warranty and the system has a 5 year one.
Remember that you'll need approval from your electricity company before feeding electricity back into the grid. Your tiny home will also need to be a permanent residence.
Frequently asked questions about tiny house solar panels
How many solar panels do I need for a tiny house?
To decide how many solar panels you need for your tiny house, first work out your energy needs using a power monitor or an online calculator. On average, most solar panels produce around 300 watts of energy an hour or around 1.5 KW a day. And so if most tiny houses use around 4 KW of energy a day, then you'll need between 3 and 6 solar panels. Bear in mind that more modern solar panels are more efficient so you'll need less of them.
How much does it cost to put solar panels on a tiny house?
The cost of putting solar panels on a tiny house will depend on the brand of solar panels and how many you decide to install. Solar panel kits are available to suit a range of budgets and range from $500 to $3,500. Cheaper options usually include polycrystalline rather than monocrystalline panels but these are less efficient.
Can tiny houses have solar panels?
Solar panels are a great option for tiny houses. Because of their smaller footprint, it's much easier to power tiny houses using solar energy compared to larger conventional houses. Tiny houses are often designed with sustainability in mind and solar panels are both a cost-efficient and eco-friendly solution. The only issue with tiny houses and solar panels is that there's not as much room on the roof but ground-mounted solar panels are a good alternative.
How many kilowatts does a tiny house use?
The number of kilowatts of energy used by a tiny house will all depend on how many people there are living in your house, the size of the house, and the kind of appliances you have. You can either use a power monitor to work it out or this government calculator. Bear in mind that the wattage values supplied are only estimates and it's best to enter the actual appliance you own for greater accuracy. 
How much solar power do I need for a tiny house?
The easiest way to work out how much solar power you need for your tiny house is to buy a cheap power monitor. This can tell you how much power you're consuming using real-time data. Use these figures to work out how much energy you need to produce on a daily basis as well as what size inverter you need. 
Most tiny houses require between 3 and 4 KWs per day, but it will all depend on the kind of appliances you have and how often you use them. Things like LED lights, mini-split heating and cooling systems, and on-demand hot water heaters will help keep power consumption down.