Headline image via HomesToLove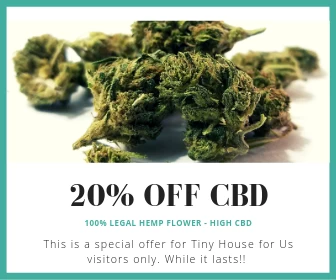 When you're living, cooking, and sleeping all in more or less the same space—which is the case with many tiny homes—you may be unwittingly breathing in air that's significantly less than fresh. In small spaces, pollutants can build up quickly. And tiny homes are often DIY builds so escape any building code inspections that would flag dangerous air quality.  
Another problem you might face with the air in your tiny home? It's damp. If your tiny home was built without adequate ventilation, you might experience high levels of humidity, with issues such as condensation, mold or mildew, or an increase in allergies.
The coolest tiny house furniture or niftiest tiny house appliances aren't much good if you can't enjoy your tiny home because of poor air quality. Luckily, it's easy to resolve both of these issues. All you need is either an air purifier, a dehumidifier, or both. 
Air purifier vs. dehumidifier: what's the difference?
First up, what's the difference between an air purifier and a dehumidifier?
An air purifier is essentially designed to cleanse and purify the air in your home, removing impurities such as smoke, dust, and odors—useful if your tiny home has poor ventilation. They function by way of filters and fans, capturing pollutants and particles and pushing clean air back out into your home.
A dehumidifier is designed to remove moisture from the air. If your windows frequently have condensation on them or you notice a musty odor or stickiness in your tiny home—or any watermarks on the walls—you may need to get yourself a dehumidifier. You can check the humidity levels in your tiny home are safe using a hygrometer.
5 best air purifiers for tiny homes
The AirDoctor is our number one choice when it comes to tiny home air purifiers. It's 100 x more effective than ordinary purifiers so will really look after your lungs. It captures 100% of airborne particles, even those as small as 0.003 microns, including smoke, bacteria, pollen, and mold. There's also an auto-mode with a sensor to assess the air quality of your room and adjust filtration as necessary. It's also much quieter than your standard air purifier. Oh, and with the above link you also get $300 off 😉
This Amazon best-seller is very affordable and features a three-stage filtration system that is powerful enough to capture pollutants including pollen, dust, smoke, and pet dander. There's also a fragrance spine where you can add a drop of essential oil and some water to make sure the air smells its best too. Got kids or pets? Use the Lock button to guard against meddling.
Available in black or white and with a rather stylish and space-age design, this air purifier has a pre-filter, true HEPA filter, and an activated carbon filter, that together capture allergens, pet hair and dander, smoke, mold, odor, and large dust particles. The system also circulates the air in your room over 4 times an hour for ultimate purification. There are different speeds for different needs and you can use the lowest level when you're sleeping so the noise doesn't disturb you.
Ensure your living environment is as clean and free of impurities as possible with this air purifier that features a 'sleep mode' for a near-silent operation that won't disturb your rest. This air purifier also aids in removing 99.99% of viruses in the air and this includes COVID-19. The control panel is easy and intuitive to use and you'll receive an alert to change the filter every eight months.
This sleek and affordable air purifier clears 95% of 0.3-micron airborne contaminants, and also reduces and absorbs smoke and odors using the nano-silver coating and carbon layer. It's lightweight and small at 6.3 x 6.3 x 9.3 inches, making it ideal for tiny homes, and there are three fan speeds, as well as a blue night light.
This is the best humidifier for small or large spaces that we've come across. With over 10,000 reviews on Amazon, it's a very popular purchase. Buyers rave about the size, simple operation, and quiet motor. Despite its size, it's very efficient, extracting up to 16oz of water daily in your home. You can run it at night without being disturbed as it operates at under 21dB. It's also energy-saving, using only 0.96kW of electricity in 24 hours. This is our top choice when it comes to humidifiers for tiny houses.
5 best dehumidifiers for tiny homes
Another popular dehumidifier on Amazon is this Inofia model. It has a couple of features that make it a great choice. The auto-stop function means it will turn off when the set humidity level has been reached and re-start when the humidity starts to increase again. This helps with energy-saving. And this dehumidifier is also great for colder climates, with an auto-defrost function that means it can be used even when temperatures sink to 41°F.
This is the best dehumidifier for vans or RVs as well as really tiny homes. It's super small, compact, and lightweight yet is still capable of removing up to 18 ounces of water today. It has an auto shut-off function for when it reaches full capacity, with an LED light to indicate that it needs draining. Its whisper-quiet operation and space-saving size (6.6 x 9 x 12.69 inches) make it ideal for small homes—although it won't work below 41°F. 
If you thought the Pro Breeze was small, then you'll be wowed by the Eva-dry which is only 9 x 8.25 x 2.88 inches. This mini dehumidifier is perfect for small rooms. You can hang it anywhere— even in a closet or a gym bag if necessary! It works in areas up to 333 cubic feet and absorbs up to 6oz of water. It's also cordless. You just have to recharge the silica gel beads every 20-30 days.
The last dehumidifier we recommend for tiny homes is the LONOVE. It's super-efficient, portable, and comes with a 31 oz water tank, suitable for rooms up to 50 to 190 square feet. It keeps humidity at between 50 and 60%—proven to be the most comfortable for humans. It also runs at below 35dB so it won't interrupt your rest time. However, it doesn't work so well in temperatures below 59°F.
Air purifiers and dehumidifiers: how to choose?
We've picked out the 5 best air purifiers and dehumidifiers but choosing between them is up to you. It will depend on your budget, the size of your room, and how much floor space you can give over to a machine like this. As we mentioned, however, the AirDoctor is our favorite air purifier, given its impressive efficiency and quiet operation, while the Instant is our favorite dehumidifier because of its energy-saving capabilities and reasonable price.