The perks of tiny house living are multiple. You save money. You use less energy. And you can create a home customized to unique needs. But living in a tiny house also presents a few challenges.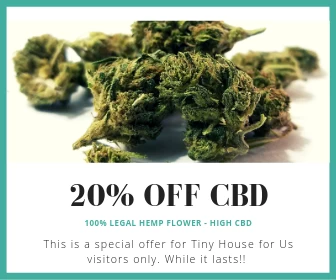 A major struggle is storage. Where do you put all your stuff in a tiny home?
Of course, tiny house living is often about downsizing and becoming more minimalist, so maybe you've already done a bit of de-cluttering. Not a bad idea.
But still, you're never going to be completely possession-free. So how can you maximize space in a tiny home and find a place to keep all your belongings?
Luckily, the tiny house community is growing by the day and they're an incredibly creative bunch. As a result, there are plenty of tiny house storage ideas out there to help you keep your tiny home organized and tidy.
Because staying tidy is key. Apparently, the average American spends 2.5 days each year looking for misplaced items. So to help you stop wasting your life looking for lost things, here are the best tiny house storage solutions to keep you organized – from hidden underfloor cabinets to hanging baskets. 
Even if you don't live in a tiny home, but rather a studio apartment or small house, why not take inspiration from these tiny house storage hacks to help your home feel open and spacious and keep everyday essentials accessible.
Content below:
The best tiny house kitchen storage ideas
The average kitchen contains a lot of clutter. From pots and pans to pasta packets and spice collections, there's probably no other room in your tiny house that is so in need of storage solutions.
When it comes to furnishing your tiny house kitchen, opt for overhead shelving which is out of your eye line so the space appears less cluttered. These ones are particularly minimalist and unobtrusive – as well as being a good budget-friendly option. 
Decorative Wall Mounted Floating Shelves
Similarly, it might seem counterintuitive but open-sided storage rather than closed cabinets appear less bulky and conspicuous.
Another good storage hack is to hang stuff from the bottom of your shelves. Don't fancy building this set-up yourself? You can buy a similar storage solution pre-built. 
Try to invest in multifunctional furniture that has a dual purpose. For example, seats where you can store things when not in use – such as this bench. 
One of our all-time favorite storage hacks is hanging baskets. They take up next to no room and are perfect for storing fruit, veg, or literally any essentials that you need access to on a regular basis. 
One study showed that our three most regularly misplaced possessions are our mobiles, house keys, and car keys. Why not put a basket by the kitchen door where you can put these things every time you enter the room? 
Are you looking for extra counter-top space? What about a kitchen counter on wheels that you can wheel out of the kitchen when you need more room to breathe? 
Functional and stylish, this workstation has storage built into it, with space for keeping all your kitchen necessities. 
We mentioned spices earlier. All those tiny jars can quickly become a mess, and that can get annoying if you're a culinary whizz who needs speedy access to your go-to flavorings. Even if your kitchen is small, that doesn't mean your flavor should be. What about this slide-out spice rack to keep things organized? 
The best tiny house bedroom storage hacks
While not as bad as kitchens, bedrooms also tend to accumulate a lot of clutter – whether that's clothes strewn over chairs or books piled high on the floor. Good storage in your bedroom can make your morning routine faster and more efficient with everything you need ready on hand.
Plus, a tidy bedroom can help reduce stress. As they say, tidy room, tidy mind. In fact, one study showed that a messy and cluttered bedroom leads to a poor night's sleep and anxiety. 
One of the best places to store things is under your bed.
Are you a bit of a fashionista? Or maybe a hoarder? Is your biggest concern how to store clothes in a tiny home?
It's a good question. Big wardrobes can really make a bedroom feel cramped and airless. Even a chest of drawers can be too much in a small bedroom.
And so a hanging closet is a perfect alternative. A combination of telescoping rods and expandable shelves means you can customize this wardrobe organizer to your unique space. As a result, your clothes are easy to access and it's far less of an obtrusive presence in the room. 
Another option could be a corner closet. Resource furniture creates modular closets that make use of otherwise empty corner space. 
Planning to stick to a conventional wardrobe? Then why not make it dual-purpose and use it as a desk too? If you're wondering how to organize a small bedroom on a budget, this is a great way to make your cupboard multifunctional. 
If you haven't yet built your tiny home, it's worth thinking ahead and considering whether you should build underfloor storage. What better way to maximize space than to turn the entire floor into a cupboard? 
The best tiny house bathroom storage designs
Bathrooms are often the smallest space in the entire house. Ironic, really, because the average person tends to own a lot of different bathroom accessories. It's not just a question of a toothbrush, after all. You also need to think about towels, toilet rolls, shower products, among many other things.  
One of our favorite bathroom storage solutions is this shelving unit that fits over the toilet. It takes up hardly any room and keeps everything within easy reach. 
Another place you might not think to store things is above the bathroom door. This shelf would do the trick – and there's even the option for another one with hooks to hang your used towels. 
Invest in a mirror that's also a cabinet so you can store things like dental hygiene products and medication in a safe and easy-to-access spot. 
Frameless Aluminum Bathroom Medicine Cabinet
Why not put a shelf over your toilet paper holder and place a plant on there to brighten the place up? Or even better, buy a toilet paper shelf expressly built to hold your mobile phone! Safe and secure.
Toilet Paper Holder with Anti-Drop Phone Shelf
A ladder can be upcycled and used as a towel rack. Or buy a ladder-style shelving unit like this one – a chic storage solution that would fit even the smallest of bathrooms. 
Think creatively about where you put shelves. These ones would fit perfectly into a corner shower, for example. 
Corner Caddy Storage Organizer
There's no such thing as too much storage
In case you're hankering for even more ways to maximize space in your tiny house, here are some more storage hacks to help you optimize your organization:
Why not install shelving over a window? Your plants will be grateful for all that extra sunlight. These ones available on Amazon will do the trick. 
You could also use shelving and cabinets as a free-standing wall. These ones would work. You can buy as many as you need to fit your unique space. It's a dual-purpose and easy way to create internal walls and room dividers. 
Think about building your own shelving too. By going bespoke, you can customize storage to your unique tiny house. This is the best way to make use of awkward spaces where mass-produced furnishings just don't quite cut it. 
There's lots of funky, creative, and imaginative shelving out there. All that remains is for you to decide where to put it. 
Easy-to-Assemble Floating Shelves
Examples of great tiny home storage to get the inspiration flowing
In this tiny house, the entire floor has been turned into storage space. Genius. 
This tiny house has made great use of vertical space by building the living area on a raised platform, therefore creating lots more room for storage. It's a great lesson in how to maximize space in a tiny home. 
In this tiny house, the shelves go right up to the ceiling making the most of the height of the building. Putting windows up there also makes the space feel bright and airy. 
Wrapping Up
Despite what you may think, it is possible to fit everything you own inside a tiny house, even when you're tight on space. It just requires some creativity – and lots of shelving.
Storage doesn't simply have to be a question of putting things in a box. In fact, out-of-the-box thinking can help you maximize your space with imaginative storage solutions and hacks that not only add to the aesthetic of your house, but help to keep your tiny home organized and the space to feel open and uncluttered.