Headline image by LoadUp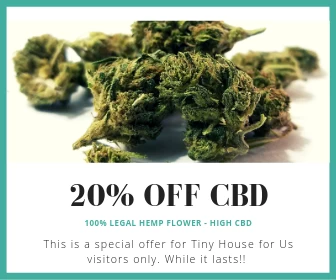 The tiny house movement partly began as a response to rising property prices. Today, owning your own home can be incredibly expensive. The average property price in the US stands at $284,600 as of May 2020. Tiny homes offer a way to be mortgage-free—depending, of course, on how much your tiny home costs.
Whether it's a school bus conversion, RV, mobile home, or a classic foundation tiny house, how much does it cost to build a tiny house? And if you're not up for the extensive DIY, how much does it cost to buy a pre-built tiny house?
Of course, what's "tiny" to one person may not be "tiny" to another. And what's cheap for one person may be quite expensive for another. Add to that the fact that the cost of buying or building a tiny home varies dramatically depending on size, materials, style, location, and a host of other factors, and determining an exact price for a tiny house becomes quite challenging.
Here we outline the rough costs of building your own tiny house followed by the average price of buying a tiny house. Compare the figures, consider your budget, and decide whether tiny home ownership could be your path to financial freedom.
How much does it cost to build a tiny house?
The cost of building a tiny home depends on your unique design. One 2015 survey pinned the price at $23,000 for a 246 square foot tiny house. Others estimate that a tiny house costs between $30,000 and $40,000. The Spruce puts the average cost of a tiny house on wheels at $59,884.
It's definitely possible to build your tiny home for under $5,000. Just look at this van-dweller whose van conversion cost $1,000 and took him just one week. For slightly more money, you could build yourself a tiny house on wheels for $14,000.
Some of the cheapest tiny homes to build are container homes. Pick up a second-hand container for around $5000 and you already have the frame of your house—although you'll then need to consider the costs of insulation (around $1,000), wiring (between $1,500 and $3,000), and plumbing (up to $2,000). For inspiration, check out this container tiny home, which cost just $20,000.
On the other hand, if you really want to push the boat out with an extravagant tiny house design featuring all the latest mod cons and additional features, then you could easily spend over $100,000. It's worth remembering, too, that in general, tiny houses don't appreciate in value over time, unlike conventional properties. In fact, tiny homes on wheels can depreciate in value, like a car.
There are lots of ways to cut down on costs when building your tiny house, whether that's building with cheap materials such as cob or fitting a compost toilet rather than traditional plumbing.
Everything from what model of water heater you choose to the kind of shower you install will affect your budget. Installing solar panels so you can go off-grid, for example, will definitely push up prices. Similarly, the kind of tiny house trailer you buy will affect overall costs. In fact, building on a trailer can increase the price of your tiny house by around $15,000.
To get some idea of what different designs might cost you, check out our guide to tiny house building plans. There's a variety of models available and the designers can give you a rough idea of the costs involved if you reach out.
How much does it cost to buy a tiny house?
The price of buying a tiny house will depend on whether you choose a custom-built tiny house, tailor-made to your specific preferences, or an 'off-the-shelf' model. It will also depend on where you buy it from and the materials used.
In 2017, the average cost for a tiny home built by professionals was $59,884. This is far cheaper than your average family home—and potentially not that much more expensive than a DIY build. For that price, you get the expertise and skills of the builders—and much less hassle and hard work.
Nevertheless, prices vary hugely depending on whether you're buying just the shell or the full package—with or without a luxury interior. Most tiny home builders can adjust the design according to your budget.
For example, Tumbleweed Tiny House Company makes tiny homes starting at $60,000. Prices for Tiny Heirloom's Signature Series tiny homes start at around $50,000—although they also offer a selection of pre-loved tiny homes that may be cheaper.
Then there's New Frontier Design, who charge between $80,000 and $180,000 for their luxury builds. Or there's Jamaica Cottage Shop, whose cabins and cottages will set you back anywhere between $4,000 and $50,000.
While buying a pre-built tiny house might sound expensive, remember that you're saving yourself a lot of time and stress. And there's also the time you might otherwise spend working and earning money. So the costs may balance out in the long run.
Check out HomeAdvisor's tool for estimating the price of hiring a contractor to build your tiny house. It takes into account factors such as size, style, and location.
You'll also need to factor in the cost of finding and buying land to put your tiny house on. Zoning laws can lead to unexpected fees while, in rural areas, you might have to pay to hook up to the grid.
Tiny house communities are a good alternative. But even then you'll need to consider the price of fitting out your tiny house with all the essentials, including furniture, bathroom appliances, kitchen appliances, and storage solutions
The cost of buying or building a tiny house
One of the biggest questions for would-be tiny home owners is "are tiny homes actually affordable?"
In general, the answer is yes. If you're willing to build a tiny home by yourself and keep it simple and sparse, then you could do it for less than $10,000, making it an amazing alternative to being saddled with a massive mortgage. Plus, the size of a tiny home also means you'll most likely save money on utility bills.
Got a bit more cash to splash? Hire the services of a professional tiny house builder to design and create your dream tiny home.
Now you know the average costs of buying or building a tiny home, the next step is exploring the different ways you can finance your tiny home.