The tiny house movement is growing in popularity. As potential home owners, you're probably looking at affordable homes and how to get started. You've seen countless house photos, but you've probably only glanced at tiny homes as an alternative. But people traditionally want an entire house full of empty guest space, don't they? Well, tiny homes have become the perfect option for people as affordability worsens. These minimalist homes are becoming popular with their clever storage options. House owners are turning to incredible tiny homes as alternative options to living life. Less is more in a lot of these cases, and there's a reason why its taking the house industry by surprise.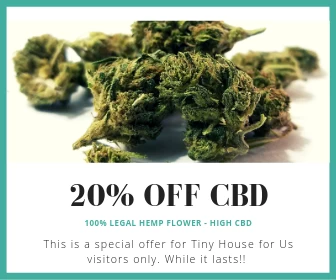 Whether you buy it or build it on low-cost land, you want a house plan that resonates with you. The house costs aren't the only factor you've got to consider. The living space on a tiny house is smaller than a traditional house, so you have to consider many factors. Do you want a tiny house on wheels? What features are a must? What can you live without?
While all of those are great questions. We're going to focus on one specific angle. What do you want the exterior of your tiny house to look like? You'll need to pick an exterior siding and the style you want the entire house to have.
This article aims to help you choose your exterior siding by narrowing down your choices. But you can't decide on your exterior based on your tastes. You also have to match it with the structure of your tiny house. Certain sidings work better than others depending on the structure and theme of your exterior.
Common Exterior Themes
Urban Exterior
Urban style exteriors are usually best for smaller areas with little space. Many of these tiny homes work well in populated areas. The house interior photo of an urban-style tiny home will look like any other house. You'll typically see a compact bathroom, bedroom, and a living room all within 120 to 400 square feet. Urban exteriors embrace warehouse-like conversions that compliment inner-city living.
Cottage and Cabin with Wood Exteriors
Wood sidings work well with cottage and cabin exteriors. You can see wood on a tiny house with wheels, or a tiny home stuck on a chunk of land. Real wood siding like a natural wood shingle exterior are popular on backcountry tiny homes. We think this has to do with feeling connected to the world when surrounded by natural material. You're more likely to feel closer to nature in a cottage-style exterior.
Country Exterior
Country style exteriors make up a lot of designs. This style tends to follow a traditional farmhouse appearance. You'll find country-styled tiny homes with plenty of patio space, loft space, and living room space. The materials are usually vinyl or metal, but it's not uncommon to see wood as well. A country exterior's design aesthetic is best for rural or spacious areas.
Siding Styles
When you look at a house exterior photo, you'll notice all sorts of different shapes and sizes. Tiny homes come in so many different siding materials and styles. We mentioned that you'll be dealing with overwhelming options, and we're not kidding. You can have many styles like board and batten, panels, clapboard, or shingles. The most popular categories for siding exteriors are wood, metal, and vinyl.
Siding Material Examples for Exterior Walls
Cedar Siding
A large number of tiny home owners go for a more natural beauty look with natural materials. People love natural wood walls, especially when you consider the craftsman style and material thickness. A wooden exterior material made of cedar wood will pair well with natural wood flooring or natural wood tones throughout the interior. But you don't have to settle with cedar wood. You can go for white cedar, red cedar, and Douglas fir. A house builder can use any of these for the walls as well as for dark hardwood flooring.
The above photo with wood siding is a prefect example of a deck accessible tiny house with bicycle storage. You have the flexibility to add different kinds of wood. Unfortunately, the major downside with this siding is the potential bug damage around its exterior. Infestations and other issues can plague a wooden siding.
Metal Siding
Thankfully, infestations and bug damage to your exterior is unlikely with a metal siding. A metal siding is another feasible material for your tiny house that's cost effective and durable. Metal materials like aluminum siding are paintable and require little to no maintenance compared to other options. Moisture damage is seen a lot less against metal, though certain sidings may dent or rust if they're not taken care of quickly. A major benefit to metal is that it's less expensive than wood.
The material's easy to clean, affordable, visually appealing, and durable. Since it's less likely to get damaged, the exterior can be cheaper in the long run. The same goes for any furniture decisions you're likely thinking about. A metal desk, a metal coffee table, or other metal furniture in general are more likely to outlast their wooden counterparts. But you don't need to choose the cheapest possible metal. Different manufacturers can make various sheets, from wavy corrugated metal siding to batten steel siding.
Best Buy Metals' corrugated metal siding is flexible enough to handle slight curvatures for roofs and walls. It has a high tensile steel core that can handle extremely high winds.
Best Buy Metals' batten steel siding provides a classic wooden craftsman look without the downsides that wooden sidings have. It's commonly chosen for residential and light commercial use. Its longevity and watertight design lead to a low maintenance siding that you can have for years to come for your tiny home.
Vinyl Siding
With vinyl, tons of different lightweight material types are available. The great thing about vinyl siding is that it's tough, long-lasting, and easy to install compared to the other alternatives. You can keep it clean with a good power wash. Home improvement companies offer varieties of vinyl that can look like wood. So, if you want a wooden appearance without breaking the bank, vinyl's a great way to get the best of both worlds.
You can install vinyl siding over existing walls. They're a really versatile siding to work with. You can build or buy a tiny home out of wood or metal, and switching to vinyl won't feel like a hassle. Labor is cheaper here too since there's a low learning curve for installing the material.
Shake HS – Hand Split Shake is a great example of vinyl siding that imitates the look of real wood without the extra upkeep. It's impervious to moisture and is really easy to install.
Your physical exterior is going to have the biggest weighting on your sidings. The square feet and shape all matter when you pick between the common materials. Thankfully, you'll never run out of help with the countless companies providing supplies and advice to tiny home owners. With the different materials and siding styles available, we don't think you'll run out of options to fantasize about.