Whether you're planning on building a 500 square foot tiny house or converting a van or truck to a mobile home, you'll need to insulate your space properly. The right kind of insulation for your climate is key to help keep your house warm in the winter and cool in the summer, and conserving energy is far easier year-round when your tiny house is properly insulated.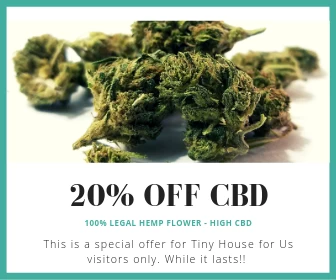 In this guide we'll be going over everything you need to know to choose the proper insulation for your tiny house build as well as how to install one of the more common and universal types of insulation. Grab your tool belt and let's get to work!
Choosing The Right Tiny House Insulation
Like most aspects of your tiny home build, you'll be presented with multiple options when choosing insulation. The most common types of insulation include rolls or batts of fiberglass insulation, rigid board insulation, spray foam, loose-fill insulation, and insulated panels. To help you choose the right kind for you project, check out the table below.
| | | | | | |
| --- | --- | --- | --- | --- | --- |
| | Rolls/batts of fiberglass insulation | Rigid board insulation | Spray foam insulation | Loose-fill insulation | Insulated panels |
| R-value/Ideal climate | ~3-3.5-R/in Ideal for moderate or warm areas | ~4.5-5.5-R/in Ideal for colder areas | ~3.75-7-R/in Ideal for colder areas | ~2.75-3.5-R/in Ideal for warmer areas and attics | ~3.5-4.5-R/in Ideal for colder areas |
| Ease of installation | Very easy andsuitable for DIYers | Fairly easy and suitable for DIYers | Difficult and not suggested for DIYers | Easy and suitable for DIYers | Very difficult and recommended for experts only |
| Efficiency | Average | Very good | Very good | Fair | Good |
| Weight | Light | Medium | Light | Light | Heavy |
| Cost Comparison | Very low | Low | Low-medium | Medium | Very expensive |
It's important to note that while each type of insulation has its own pros and cons, you can opt to install any insulation you choose; you may just want to alter the thickness of your product based on the climate in your area. Ultimately the choice is yours unless you're limited by sheetrock already being installed. If that is the case, loose-fill insulation is your best bet due to limited access being needed for setting it in place.
For ease of installation, very low cost, abundant availability, and average R-value, fiberglass insulation rolls or batts are the most common option for insulation, so we'll be going over how to install this type of insulation step by step.
How To Install Fiberglass Insulation
We're going to begin by assuming you have your tiny house frame built, roof installed, exterior walls finished with siding to prevent moisture from damaging your interior, and electrical wiring run to your electrical boxes that are all set in place. We're also going to assume you completed your framing according to your tiny house building plans, so your studs are the standard width apart. This will make your job a whole lot easier!
Cut Rolls Or Batts To Size
Fiberglass rolls and batts most often come in standard widths which match the space between your studs and rafters perfectly, so the majority of the measuring and cutting you should need to do will be to cut your insulation pieces to the right length. We recommend doing this piece by piece and not cutting all of your strips to size ahead of time; this will help prevent the need to re-cut and will limit the time it takes to install.
Install Pieces Of Insulation
Part of the beauty of fiberglass rolls or batts is in the ease of installation. You'll simply need to fit pieces of insulation between the rafters in your ceiling, the studs in your wall, and the joists in your floor. Measuring each piece right before placement will help get everything fitting snugly.
Image courtesy of Certainteed.com
Many fiberglass insulation manufacturers include a paper sheet on one or both sides of the insulation. This sheet acts as a vapor barrier to keep the fiberglass dry, but it also includes a flap that overlaps your studs to allow for stapling. Use a staple gun or a hammer tacker to staple the overlapping paper to your studs to secure the insulation in place.
Split Insulation To Allow For Electrical Wiring
One thing to consider is how to install tiny house insulation where you have electrical wiring running through your studs or rafters. You can have two pieces of insulation meet at the wiring, but a more efficient method is to split the insulation down the middle so that it sandwiches the wire.
To filet your insulation, simply use your hands to pull about half of the insulation piece away from the other half. Tuck the rear portion behind the wire, and fold the front portion of the insulation down so that the wire runs right through the middle of your insulation.
Image courtesy of Greenbuildingadvisor.com
Cut Insulation To Fit Around Electrical Boxes
The last thing you'll need to do is cut out notches in your insulation pieces for light fixtures, switches, and outlets. Fiberglass insulation is easy to cut. So you'll just need a utility knife and a straight edge to cut against.
Always measure the notches you need to cut carefully and mark them out on your insulation. Next, place the fiberglass pieces on a piece of plywood or other scrap piece of woo. Then align your straight edge with the notch lines, and cut out the notch carefully with your utility knife.
Image courtesy of Homefixated.com
Choosing the right kind of insulation for your tiny house and your climate is important, and it could mean the difference between unbearably cold or hot nights and sleeping in comfort. Conservation of energy is critical with tiny homes, and the right type and thickness of insulation can improve your home's energy efficiency drastically.
If you're lucky enough to live in a moderate climate where fiberglass insulation is a realistic option, installing it might actually be simpler than choosing which kind of insulation to use! Just be sure to measure and cut carefully, and your tiny house will be optimally climate-proof in no time at all.
If you're still looking for more resources, be sure to check out our ultimate tiny house building guide.