Headline image via Tumbleweed Tiny House Company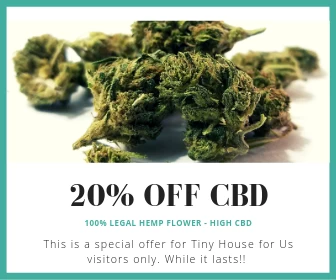 Popular US series Tiny House Nation is confirming what we already knew. Tiny houses are a big deal. The trend for these alternative and diminutive homes is spreading across the country as increasing numbers of people are thinking outside the box when choosing somewhere to live.
Here's what you need to know about both the show and tiny houses.
What is a tiny house?
Technically, a tiny house is any house that's less than 400 square feet. A tiny house can be static or on wheels. As alternatives to conventional housing, the popularity of tiny houses has boomed in recent years and they've become a movement in their own right, with more and more people commissioning or building their own small dwellings to live or travel in.
What is Tiny House Nation?
Tiny House Nation is a US-based reality TV show. Presenters John Weisbarth and Zack Griffin travel across America to meet with people from all walks of life who have big tiny house dreams. They help them build their perfect tiny house, often with innovative solutions to problems such as storage space, kids play areas, and traveling around with their tiny house.
How much does a tiny house cost from Tiny House Nation?
The price of the tiny house is rarely disclosed on Tiny House Nation. However, we know that the majority of people chose to go tiny in order to save money and be free of a mortgage.
That said, the price of tiny homes can vary—whether or not they've been built by the crew on Tiny House Nation. You're looking at between $10,000 and $35,000 for a DIY build and around $100,000 to get one built professionally.
Tiny House Nation: best episodes
Here are our top 5 Tiny House Nation episodes to give those who aren't familiar with it a taste of what the show is all about—and so those who are already avid fans can reminisce about the highlights.
Going Tiny to Make Things Right
All Tiny House Nation episodes are heart-warming in some way but this one is particularly charming. It focuses on 25-year-old Stephanie and her father Jim, who is helping her to make her tiny home, re-building trust with his daughter following the divorce from her mother some years before.
Thanks to Jim's extensive construction experience, and with the help of the Tiny House Nation crew, they create a delightful new home for Stephanie, including space for her 55 pairs of shoes and a triangular-shaped deck with a sunshade for entertaining friends. It's an emotional episode as the house comes to represent a love letter from Jim to his daughter.
Building Mini in Mississippi
This episode of Tiny House Nation centers on Tommy and Tierra who are on a mission to simplify their lives. They both work hard and have acquired more stuff than necessary during their lives. They want to downsize so they can spend more time outdoors and with their family.
The production process is not without its challenges, including an unexpected Mississippi downpour on the last day of work, as well as swarms of mosquitoes. Tierra and Tommy are also tasked with selling much of their stuff at a backyard sale to declutter before moving home.
However, John and Zach succeed in not only creating a cozy spot for the couple's three dogs to lounge but also in incorporating Tommy's prized smoker into a deck area. Other features include a huge food preparation area, a serving station, and an inflatable movie screen along with a picnic bench that converts into stadium seating.
A Firefighter Rebuilds
Many of the episodes of Tiny House Nation are about people who have, for whatever reason, been made homeless and lost everything. One example is volunteer firefighter Scott and his wife Lori, who lost their home in the California wildfires. They want to rebuild their lives in the same place as being part of the local community is important to them.
They decide to go tiny and John and Zach help them create a stunning new home with spectacular views. Xanthe is a chef so half the square footage of the house is devoted to the kitchen, which includes a multi-purpose cabinet that also serves as a table, surface preparation space, steps to reach cupboards, and features a marble slab for working with pastry.
The couple also love entertaining—sometimes hosting up to 12 guests at a time—so the team makes big dinner parties a possibility with an outdoor entertaining space including a greenhouse and three redwood benches that convert into a hexagonal table.
Tiny House Hits the Road
In this episode, Florida-based couple Tony and Lori have grand plans to hit the road so Tony can start work as a traveling nurse, helping hospitals around the country with staffing shortages. The couple currently lives in a massive condo but the financial freedom and ability to travel has convinced them to go tiny.
While Lori's dad continues to express doubts about the project, work begins on their tiny house. As Tony works nights and Lori needs to be able to co-exist in the house while he sleeps, the final result includes a voice-activated sound-proof partition for when Tony needs to sleep.
And because the house has to be totally mobile, there are travel-proof cabinets, and the deck, which adds valuable outdoor living space, can be easily disassembled when on the move.
The couple love margaritas so Zach creates a custom bar that emerges from a countertop. Thanks to the help of a Smart Home technology company, the house also becomes interactive. The lights go off, the shades go down, and the doors lock—all with a simple voice command.
Tiny Times Two
Another family that lost everything due to a fire, Deanna and her two kids want to start their tiny house adventure with not one but two tiny houses. With a very active nine-year-old and a teenager craving his independence, Deanna wants a place where her oldest can have some freedom and she and parkour-obsessed Sterling can live nearby.
Built on the land where their old house once stood, the family's two new tiny houses meet all their needs. In the larger of the two, Sterling and Deanna both have their own loft sleeping space and she also gets a walk-in closet and two custom-built shoe closets.
Outside, Sterling gets a treehouse complete with a trampoline and parkour wall. Meanwhile, Dane gets his own tiny house complete with a gaming suite, a private relaxation zone, and a soccer goal net. A deck ties the two houses together creating a dining space where they can hang out as a family.
Tiny House Nation: worth a watch?
Tiny House Nation showcases the wide range of possibilities that come with going tiny, proving that downsizing is definitely not downgrading and providing inspiration for different hacks and tricks to make your tiny home extra liveable.