Tiny House Kitchens – Stove Options: How to choose the best tiny house oven for your home
You can't overdo things when it comes to furnishing your tiny home's living space. There isn't enough space to fill it up with everything you can think of. A tiny home has a limit on how much you can put into it due to its fewer square feet.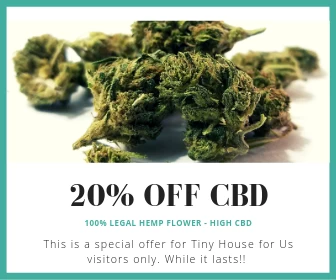 The space in which you prepare your food is important. A tiny house with kitchen space is important when you're going to live the tiny home lifestyle. You're going to want plenty of space, utensils, and equipment for the meals you'll be making. Unfortunately, you have to plan accordingly, but you have plenty of options to choose from.
A lot of tiny home owners maximize their counter space by buying miniature appliances to make off the grid living easier. The reportedly largest appliance is your oven. Thankfully, countless companies have portable appliances with limitless size options. Unlike a traditional house, your tiny home needs a stove with a compact size and design to get the most out of your storage space.
Today's options are energy efficient with built-in safety features that leave you with plenty of space left. This works well when you're trying live out your tiny home's minimalist lifestyle. We'll show you all the best options for your tiny house's stove.
Electric Kitchen Cooktops
The first popular choice people consider for their stoves are electric cooktops. Most models will fit in your storage cabinets. Different types of cooktops have different ways of energy usage.
Cuisinart ICT-60 Double Induction Cooktop
The Cuisinart ICT-60 Double Induction Cooktop is a great, affordable option. This double induction cooktop adds two induction burners to any kitchen. The awesome thing about most of our options is that you're not restricted to indoor cooking. You could easily add it outside your tiny home if having your own separate kitchen is an issue. With instant heat-up and precise heat, the induction technology here provides an exceptional cooking experience. Each induction burner has its own temperature control, timer, and on/off switch. The smooth glass surface is eye appealing and easy to clean.
Cuisinart CB-30P1 Cast-Iron Single Burner
A more affordable and budget option is the Cuisinart CB-30P1 Cast-Iron Single Burner. Instead of a full range, you're working with an iron plate with 6 adjustable temperature options. Its flat surface is coil-less and easy to clean. Out of all the portable space heaters, this electric option has a simple, compact design.
Burners
Some people prefer cooking on a range that uses an actual flame. Here are two of our favorite burner options:
Gas ONE GS-1000
The Gas ONE GS-1000 is an extremely popular for tiny homes that don't have grid-tied electricity. This single burner cooktop is one of the most fuel efficient gas stoves available. It's easy to use and reliable for indoor and outdoor cooking. It also has a fuel safety feature that removes its canister in emergency situations. The great thing about it? It has an efficient and clean burn that's silent. The only major issue is that it's for outdoor use only, but that only means more space for your tiny home kitchen!
Iwatani 35FW
The Iwatani 35FW Butane Stove is a great option if you want a compact gas burner for indoor use. It's easy to use with plenty of safety options to prevent damage to your tiny home. It has an automatic safety stop if your cooking circumstances become too dangerous. It's well-built with its metal and ultra efficient design. It leaves behind zero residual fuel while maximizing heat output for cooking.
Traditional Stoves With Ovens For Tiny Homes
Summit Appliances also has a wide range of compact appliances that are tiny house safe and energy efficient. If you want a more traditional stove option for your delicious food. One great thing is these are typically offered at your local home depot.
A 20″ Wide Electric Coil Range (RE203W) is a great metal stove that's easy to maintain and use. With fully featured electric ranges in 20 colors, this products brings exceptional value to small kitchens. The RE203W is a 20-inch 220V electric range made in North America. The removable chrome drip pans make cleaning a breeze. Each coil has a sensor that turns off if it reaches dangerous temperatures. The RE203W has two adjustable racks and a two-piece broiler pan made of sturdy porcelain. The exterior of the RE203W is white with color-matched knobs and handle. This unit is ideal for space-constrained kitchens on a budget, thanks to its slim fit and high-quality design.
Another great option to choose is the 20″ Wide Electric Coil Top Range (WEM117). The WEM117 is a 20″ wide 220V electric range with a generous 2.46 cu.ft oven interior that can fit big trays. There are two oven racks that are adjustable. In small kitchens, the lower drop-down storage compartment is ideal for keeping pots and pans out of the way. It helps with expanding your storage options for your tiny home. This unit has four coil elements designed for safety. These use less energy than standard electric ranges. It allows for a more gradual yet consistent heating experience that doesn't cycle off. Push-to-turn knobs in the front provide added safety by preventing users from reaching over hot burners to adjust the heat. The WEM117 is available in a classic white finish to complement any tiny home kitchen. It has a recessed oven door and is only 24″ deep, making it ideal for galley and L-shaped kitchens where each inch matters. The unit is porcelain and steel construction, which ensures that it'll last for years of daily use.
If you prefer the feel of a gas stove, Summit's 24″ Wide Gas Ranges are a great pick. They Typically have four sealed burners with removable iron tops providing cleaner and safer cooking. It comes with a compact oven controlled by push-to-turn knobs and supported by two oven racks. With so much more cooking space, you can juggle many dishes at once.
Don't See The Perfect Stove?
Out of all the options we provided, your decision depends on your situation with your tiny home. Your desired power source for your tiny house appliances influences whether you go with electricity or gas. Afterwards, picking a compact product boils down to your personal preferences. If none of these options work out for you, we recommend checking out home depot or any other appliance store (online or in person). Home Depot has 100s of compact appliance options. All you have to do is visit the appliance section of their site. From there you can select ranges or cooktops and filter by size to find the perfect one for you.