While we are still in the dead of winter, you may be thinking about how to better heat your tiny home. We highly suggest using a direct vent (also known as vented) propane heater. Propane is one of, if not the most, cost-effective solution to heating your tiny home. Propane is more thermal than electricity, requiring less propane to reach a warm temperature than when you use an electric heater. Additionally, 98% of propane is locally sourced. This means heating your home is not affected by taxes or international relations that impact oil costs. Vented propane heaters are the safest, most affordable, and practical way to heat most tiny homes today. This blog post includes our recommendations and links to the best propane heaters for tiny houses on the market today.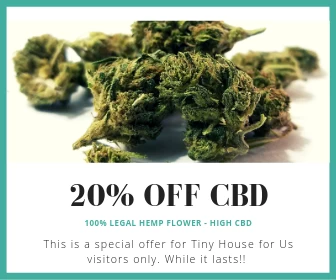 Rinnai EX08CP Wall Mounted Direct Ventilation Furnace Propane
The Rinnai EX08CP Wall Mounted Furnace Propane heater can be a bit tricky to install, so you may require some outside assistance. Other than that, the heater is a phenomenal option for tiny homeowners. Although it is smaller than typical propane heaters, it is just as powerful as many of the large heaters on the market. An attractive element is its ease of automation. It offers varying temperature settings that can automatically be programmed for certain times of the day. Additionally, it offers family-friendly features like whisper-quiet, user-friendly control, and cool-to-the-touch cabinets, so no little hands or furry paws are burned if they touch it. This is one of the best propane heaters for tiny houses on the market today.
Mr. Heater MH18CH Radiant Cabinet LP Heater
The Mr. Heater is ideal for keeping "bigger" tiny homes nice and toasty if you have a larger or two-story tiny home. Interestingly, it uses dual-fuel technology that works both with propane and a natural gas heater. It does not come with a built-in thermostat, but wings are provided on the unit if you wish to install one yourself. It comes with a self-diagnostic control module with a spark detector for safety. It is easy to install in your tiny home as it comes with two angle brackets for a ceiling mount and simple external access to the power button. The main draw to this heater is that it comes with a lengthy 3-year warranty.
Dickinson Marine Newport Propane Fireplace
This heater is best for tiny homeowners who only need to use it occasionally. While it has a smaller heat output, it is exceptionally energy-efficient. While smaller, one can still expect about 140 hours of heat from a 20-pound propane tank. That being said, if you are new to installing heaters, this small tank is likely the one for you. It comes with an easy-to-understand instruction manual that will not require you to look for outside assistance. Additionally, it has a built-in blower system that will help circulate the heat throughout your tiny home. We also love this design because its appearance is reminiscent of an old-school fireplace with its 28-inch chimney. The Dickinson has remained one of the best propane heaters for tiny houses for many years.
Propane Gas Heater by Martin
The Propane Gas Heater by Martin is one of the most stylish and attractive propane tanks available today. The designers created this propane tank with sustainability in mind. It utilizes clean energy via a built-in thermostat to keep it as energy-efficient as possible. Its die-cast aluminum grill and glass ceramic window may have you entranced for hours on end. This heater is extremely powerful and can easily keep any tiny home warm. The only downside is that it gets extremely hot after a few hours of use, so be careful not to bump into it.
Direct Vent Propane Wall Heater Furnace Built-in Thermostat 8,000 Btu
This Martin heater is the above Martins, little brother. But, like the above, it also has a unique built-in thermostat that makes it a good option for buyers looking to save a little cash on utilities. The main difference between the two is that it is smaller and cheaper
US Stove Propane Gas Heater
US Stove heaters are straightforward. No bells and whistles to distract you. They are effortless to install and come at a lower cost. This is an excellent option for tiny homeowners who live in moderate climates and only need a bit of heat once in a while. Check out this great example of a US Stove Propane Gas Heater by Ashley
Wiliams Direct Vent Gas Furnace
Yes – it says gas in the name. But the Williams Direct Vent Furnace can easily be converted into a propane tank. It also boasts a built-in thermostat, which is surprisingly hard to find amongst heaters. It is also a heater that has been formally approved for homes located in elevations over 2,000 feet. After its conversion, it is a solid heater that will hold up when the power goes out in your home.
Propane Catalytic Heaters
Off-grid tiny homeowners will love a catalytic heater. These heaters use a specially-designed surface to decompose propane into heat without an actual flame. However, if not used properly, they can cause quite a mess with your home's air quality. That is why it is essential to use a vented catalytic heater like all of the other listed heaters. A vent will ensure all of the water vapor is removed and the oxygen is continually replenished from the outside. Learn more about these heaters.
PrecisionTemp RV-550 Tankless Water Heater
This propane heater is made for those who love a nice, long hot shower. The heater only weighs 32 pounds, which is just a fraction of standard propane heaters. Additionally, it is exceptionally efficient – using just half the amount of propane as others. Due to its high BTU, the heater only functions when water is running. On that note, unlike many other tankless heaters, the PrecisionTemp has built-in freeze protection. The only downside to this heater is that it can get scalding hot when touched. Once again, be sure to keep little hands and paws away from it. It is currently out of stock on Amazon but will hopefully be back soon!
Whichever heater you choose for your tiny home, remember to make sure that it is vented. A vented propane heater will keep your home safe, a comfortable temperature, and save you countless dollars on utilities. We hope you try one of these best propane heaters for tiny houses.