In ancient gypsy cultures, gypsy wagons were often used as homes, and gypsies traveled from place to place. Tiny Home Gypsy Wagons are built in the same style as gypsy wagons, but they're made specifically for everyday use without the hassle of constantly moving them around. There aren't many gypsy wagon tiny homes out there, but they're steadily growing in popularity. This article highlights just a few of our favorite gypsy wagon tiny home designs.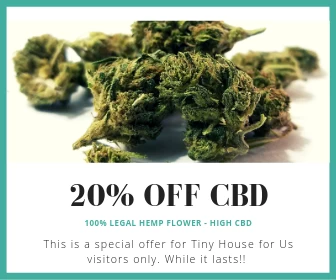 Gypsy BLISS Wagon Camper
SimBLISSit has designed three sizes of their Gypsy BLISS Wagon Camper. Following the traditional Old-World design with a curved roof and outer slanted sides, they have still managed to make the interior of these on-the-road homes very comfortable. Their gypsy wagons range in size from 4 x 8 to 5 x 10. Their most giant wagon can even fit two beds. All of these wagons have windows and a fold-down table for meals. Not sure you want to commit to a home like this fully? You can rent these wagon homes out for a one-of-a-kind camping trip.
Gracie Gypsy Wagon by Rolling Homes
Rolling Homes is a family-owned and operated business that builds gypsy wagons and other THOWS. Their first gypsy-wagon-style tiny home is called the Gracie. It is a traditional roll-top caravan with a queen-size bedroom and canvas roof. As you can see, it is gorgeous with its custom hand-painted exterior. This design was first created to be used as a short-term rental. However, the design has become extremely popular due to its vintage feel. For $41,000, a tiny homeowner could use this design for full-time living, a guest cottage, or extra office space.
A Shepards Hut
The Shepherds Hut is a close cousin of the gypsy wagon. It uses local felled trees for the home's frame and reclaimed tin cladding. The home's creators went antiquing to find old farm machinery to use as the THOWS wheels.
The home creatively salvages pieces to add a vintage feel and save money on the build. The house has a double bed and space for pull-out twin beds that can also serve as a sofa. The designer and owner of the home, Sarah, has even installed a wood-burning stove to add a sense of adventure to her tiny house. She says loves using raw and reclaimed materials to make this new home look lived in.
Russ's Radical Gypsy Wagon
Russ is the owner of this enchanting gypsy wagon. The 400-square-foot home is a THOW, but currently sits on his timber farm. The wagon was initially built as a guest house for when he had visitors. Today, the tiny home has a twin bed, sitting area, folding desk and table, closet, speaker system, and an incredible wood sink. Russ is a talented craftsman, as he carved the internal wood designs himself. His beautiful wood sink has been such a hit at tiny house conferences that he is considering making them for sale to other homeowners. Be sure to grab one if he ever does start selling these! Learn more about this home here.
Ornate Romanian Vardos
Jim Tolpin is a gypsy wagon builder who likes to get the traditional "vardos" alive. While his wagons look straight out of Romania, they are, in fact, meant to be pulled by a trailer rather than horses. While allowing room for modern comforts, he ornately decorates the gypsy wagons to mimic the traditional designs that began in Romania.
An Irish Caravan
This adorable Irish caravan, which is a take on a gypsy wagon, includes an exterior finished with recycled fir siding, a fully equipped interior, and options for customization.
The gypsy wagon is 9'x22′, but the kit comes in different sizes depending on your needs. The kitchen/living room space is combined, while the bedrooms are separate spaces either at the front or back of the gypsy wagon. The gypsy wagon has a unique floor plan and is finished with recycled fir siding. The gypsy wagon comes pre-furnished in your choice of color schemes.
Gypsy-Style Tiny House on Wheels
Hornby Island Caravans is one of the most well-known gypsy wagon companies in Canada. The gypsy caravans from Hornby Island Caravans are beautiful yet functional homes built to be towed behind many different kinds of vehicles. Michelle of Hornby Island Caravans builds gypsy caravans in a variety of styles and sizes, including this stunning wood gypsy caravan.
The interior of the gypsy caravan features pine, birch, and fir. The kitchen space is framed by storage spaces on two ends and has a double sink with plenty of countertops to work with. The gypsy caravan is finished with a wood interior, but it could be done in different kinds of materials to suit your tastes.
The gypsy caravans built by Michelle are truly something special. These gypsy caravans are sure to turn heads wherever their owner chooses to travel!
A Contemporary Gypsy Wagon
This is a contemporary take on a gypsy wagon in Seattle, Washington. It features a small built-in front porch over the entryway, above the trailer's tongue. Though the space is intimate, it does feature bunk beds. While it may not be equipped for full-time living, it is a great and stylish option for weekend trips.

A Wagon Fit for a Queen
A modern decor styling of a "Gypsy Wagon" is the inspiration behind this delightful, warm and cozy space. The interior is draped in bright turquoise, orange, and red colors with stately decor that could make any guest feel like royalty. The simply appointed space includes a lounge area, bed, and washroom. As one of several lodgings available at La Bastide de Marie, guests have access to dining and other amenities on-site, so they do not need to bring their own kitchen.
Learn more about this home here.
Gypsy wagons are one of the oldest traditions of living small. Whether you are looking to upgrade to a contemporary space or stick to traditional ornate decorations, living in a gypsy wagon can be an incredibly freeing experience. This lifestyle is coming back, and more and more gypsy wagons are on the market as full-time homes. We hope you find this list helpful in searching for your new gypsy home!