Japan's rich history dates back over 30,000 years. One of the most beautiful ways the culture has stayed alive both in Japan and around the world is through the architecture of Japanese-style homes.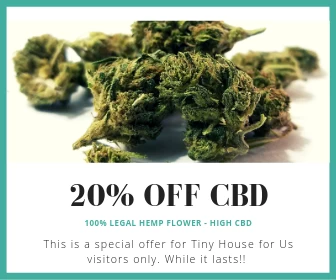 When you picture a Japanese-style home you are likely envisioning what is called a Minka. They include sliding doors, verandas, and tatami flooring. A pillar of Japanese architecture is that "form follows function". Minka homes are generally minimalistic and involve a connection to nature. These principles are the same cornerstones that tiny home living is based on. We've gathered beautiful examples of six tiny homes that have embraced the Japanese style to inspire you.
Muji Hut
The above home was designed by a Japanese retail company that focuses on sustainable living and minimalism. The above home is called the "Muji Hut" and measures just under 100-square-feet. At the moment, it is only available to Japanese residents, but we believe the design is worth noting.
As you can see, the home fully embraces the minimalist and neutral color palette of traditional Minka's. The home features a shed roof and a deep deck space that is excellent for hosting guests. It has large glass windows that double as sliding doors, plywood interiors, and Shou Sugi Ban exteriors. Shou Sugi Ban refers to the traditional and highly effective Japanese practice of preserving wood. All of the wood used in the construction of this home has been sourced from Japan. One should note that the plans available for this home do not include information regarding plumbing, ventilation, or electricity. Additionally, this home has a strong foundation and isn't intended for a roaming digital nomad lifestyle.
Byron Tiny House
Byron Tiny House is a masterful combination of Japanese and Scandinavian design. While those cultures live oceans apart, their passion for minimalism is quite similar. The creator of this home spent 18 months designing it and claims that "every millimeter has been thought of". You'll notice its extra-wide base paired with large windows gives the home an open and spacious feel. The wide base also provides an extremely stable foundation. The roof of the home uses a longitudinal shed roof to resemble a boat. The designer wanted the exterior of the home to be just as appealing to those who see it from the outside as for those who enjoy the interior. To maintain the feeling of space inside, the designer chose a roof with no lights and no second loft to allow a feeling of continuity. To counteract the harsh lines of the home's designs, they used soft curves on appliances, such as the handles of drawers. The Bryon isn't meant to be a TOW home, but its aerodynamic shapes make moving it simple when necessary.
Tea House
Take off your shoes and enjoy a cup of tea in the Tea House. The tea house is a 143 square-foot home reminiscent of a traditional Japanese tea house. Both the living space and sleeping area are defined by traditional tatami mats. On the main floor, the tatami mats sit on a raised surface and disguises drawers for storage underneath. In traditional tea houses, visitors are provided with a separate entrance to the space. This tiny tea house does not lack tradition, providing guests with an intimate entryway. 
Another element of Japanese architecture is its connection to nature. The kitchen counter in this home has left its wood edges raw to remind one of its relevance to the outside. Keeping with tradition, the home offers a comfortable soaking tub in the bathroom. This home is easily towed, so you can take your tea house wherever you go!
Forest Home
This tiny A-frame home was constructed almost entirely from salvaged materials – and it looks amazing. The owner of the home, Brian, is a former boatbuilder and believed in the time-tested "structural worthiness" of Japanese designs. With few exceptions, the home practices unadulterated wood joinery. Fabricated joiners such as slack jolts were only used when it was deemed reasonably unsafe not to. 
The main living space features a raised floor covered with tatami mats to encourage mindfulness. You'll find a wood-burning stove and a wooden ladder to the loft bedroom. Our favorite part is the self-constructed outdoor hot tub!
The Red Container
Japanese architect Tono Mirai aimed to promote Shinshu larch with the development of this home. Shinshu larch is an often overlooked species of Japan's Nagano Prefecture due to its historical tendency to warp. Thanks to developments in drying techniques, this issue can be avoided. The home featured above is 107-square-feet and can be ordered as a tiny home or stagnant tiny house. Either way, the prototype includes electricity, light fixtures, air-conditioning, and huge windows that can be opened for natural ventilation. The roof is covered with asphalt shingles and offers a twisted design reminiscent of Japanese modernism.
A Pacific Northwest Japanese Hideaway
The owner of this home, Stephen Proctor, is an artist and designer himself. He knew he wanted to curate a space that not only functioned as a comfortable home but represented his aesthetic. He was deeply inspired by his time with his colleague Japanese-American artist Makoto Fujimura as well as Japanese Tea-Master Keiko Yanak. Proctor implied he knew he wanted his home to follow the Japanese style with contrasting shades of black and wood when he picked up his matte black teapot with a bamboo handle. From there, the idea of a Japanese-style home was born.
The home offers 336-square-feet of space, with two lofts at either end. The kitchen utilizes an open-cabinet style and features a large propane stove. The bathroom is equipped for septic hook-up and includes a washer and dryer. Outside, you'll find a six-foot deck that can be easily stored and transported, as well as a hookup for an outdoor shower if you've landed your home somewhere really remote. This home is moved relatively easily and is a great fit for a homeowner looking to live in a true art piece.
As you can see, Japanese-style architecture is a natural fit for tiny home floor plans. It embraces minimalism, modernism, a connection to nature, and a reputation for sturdy structures. The traditional Japanese Minka includes sliding doors, verandas, and tatami flooring. All of these elements utilize space well and create a feeling of openness when designed well. Curating your space to mimic a Japanese-style home is an excellent way to use space in your tiny home effectively, and continue your journey in mindfulness as a tiny homeowner.