We won't say this is the most beautiful MitchCraft we've ever seen – because it's just so hard to choose! – but we're pretty sure it's the biggest. It's a 31-foot gooseneck that Mitch built in close cooperation with the buyers, Elise and Clara, who were looking for something both uniquely personal and highly functional. Tastefully multicolored paintwork and various wood tones blend harmoniously to give it a slightly Southwestern aesthetic, and as for functionality it has two full bedrooms – a loft one and a private one over the gooseneck – plus storage space you simply wouldn't believe without seeing the photos below!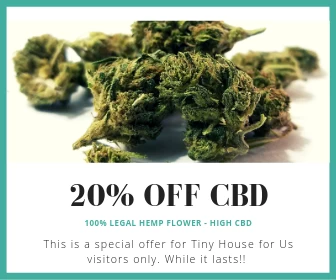 The siding is a mix of fabricated panels, tongue-and-groove cedar, and chevron-style shou sugi ban burnt cedar.
The kitchen's in the middle, with the loft and the living room to the left.
Window seats and a desk/dining table make the living room a cozy, functional space.
The view from the loft shows the roomy kitchen, as well as the location of the bathroom (behind the curtain) and master bedroom (up the stairs).
Just look at all those drawers (plus quite a few shelves and cabinets)!
More stairs, more storage!
The beautiful bathroom has original artwork, a basin sink, and a penny accent wall to go with the copper pipes.
What it doesn't have: a tub, a flush toilet, or an automatic washing machine.
The cozy master bedroom comes complete with nightstands –
– and its own storage alcove. (There's more storage under the bed, of course.)
h/t Tiny House Talk