Mouse House Tiny Homes's first build, a 20-foot THOW on a custom heavy duty drop axle trailer, has recently come down in price to an even $60,000. For that money, maybe you'll want to snap this one up as is – or if you like the workmanship and style but need a few different features, check out their website for info on available options.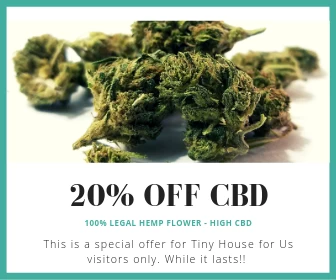 Slight cantilevers on each end add a little extra loft space. Insulation is good at R-19 ceiling / R-13 walls / R-21 floor.
There's a bathroom beyond that sliding door, with the same quartz counters and subway tile you'll see in the kitchen.
Instead of a small sofa, you get two full size armchairs. The floor is real hickory.
The storage stairs look a little steep, but they do hold a decent sized closet.
The kitchen under the secondary loft is a highlight of the house.
The main loft has good floor area, but not a whole lot of headroom.