Headline image via The Coolector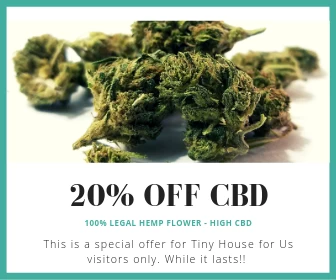 Teardrop campers, aka teardrop trailers, are the hot new name in camping. Streamlined, lightweight, and impressively compact, they get their name from their distinct teardrop shape, rounded at the back and tapering to a point.
Smaller and more affordable than RVs, and easier to maneuver than your typical campervan, they first appeared on the scene in the 1930s but disappeared again by the 1960s.
However, thanks to the Internet, these quirky campers have made a comeback. Here's everything you need to know.
How big is a teardrop camper?
The size of a teardrop trailer varies. Some are as small as 4 x 8 feet, others are around 6 x 10 feet. They typically weigh between 1,000 pounds and 4,000 lbs which means that almost any vehicle (in some cases, even motorcycles) are capable of towing one, with minimal additional fuel expense.
Inside, there's usually enough room for two adults as well as storage space, although some can sleep a family of four. Most feature a hatch that opens up to reveal a cooking station as well as the option of an awning for shelter while cooking. Other features you might find include USB sockets, interior lighting, and bike racks.
How much do teardrop campers cost?
The price of teardrops vary hugely, but on average, the mid-tier models cost between $10,000 and $15,000.
Are teardrop campers expensive?
While a brand new state-of-the-art teardrop could cost around $40,000, teardrops vary in price and you can find second-hand ones for as little as $5,000. This makes them much cheaper than RVs.
Add to that the reduced fuel costs of towing a smaller camper and teardrops work out as quite cost-efficient. Of course, the exact price will depend on what's included. Features such as off-road tires, solar panels, air conditioning, and additional beds will push the cost up.
Are teardrop campers worth it?
If you're looking for something fuel-efficient and versatile, a teardrop is a great choice. Its diminutive size means it can be towed by pretty much any car. It also has the advantage of offering more security and comfort than a tent.
As with tiny houses, teardrops are a popular choice for those looking to downsize and declutter, offering a minimalist and affordable camping experience. The retro vibe is another draw, although you can also find ones with a more minimalist or futuristic aesthetic.
In addition, teardrop campers are fairly low maintenance. There are few parts that can break, aside from the battery. They're also small enough to fit into a standard garage when not in use.
However, the small size is also one of the downsides of a teardrop as there's not much standing space and you have to cook outside. That said, if you don't think you'll spend much time inside anyway—perhaps planning to spend your trip biking, climbing, hiking, or surfing—they remain a good option. Plus, larger options do have kitchens, dining areas, and even bathrooms.
Our favorite teardrop campers
The Little Guy Teardrop is the ideal introduction to teardrop camping. Towable by most vehicles, the Little Guy Max sleeps 3, weighs 3010 lbs, and is 21 feet in length. Inside, you'll find a queen bed, an entertainment system, storage, a wet bath, dinette, fridge, stove, and sink. What more could you want?
This teardrop can be towed by small cars and is ultra-light, with a dry weight of just 760 lbs. It features a double bed, an entertainment system, and AC, and is available in white, silver, black, blue, or red. You can also expand the living space of your MyPod with a screen room tent that attaches to the trailer. A roof rack is also available.
The Cricket by Taxa Outdoors looks super modern and sleek and is ideal for family adventures, with sleeping room for two adults and two children. The bed turns into a dinette for meals out in the wild while the pop-up roof optimizes ventilation—perfect for warmer climates. It's also small enough to fit in a standard garage when not in use.
The rugged Topo Series teardrop trailer by Escapod is the number one choice for those wanting to go off-the-beaten-path. With its off-road suspension, it can tackle more difficult terrain while powder-coated steel and corrosion-resistant aluminum offer protection from the elements. A ROAM awning also offers shade and shelter once you set up camp. But our favorite feature has to be the stargazer window right above the queen mattress.
The Basedrop by Colorado Teardrops is made with adventurers in mind. Strong, light-weight, and with a queen mattress and galley kitchen, it doesn't just look incredibly stylish but it also delivers when it comes to functionality.
Inside, there are reading lights, a center cabin light, shelving and storage, space for an ice cooler and water tank, and screens on the windows to keep out bugs. We particularly like the use of maple for the interior. And there's even the option to add a patio umbrella mount—or an espresso machine!
The gorgeous Vistabule Teardrops offer that vintage vibe that makes teardrops so iconic. They're custom-built to the client's particular needs and boast a couple of standout features, including a pass-through to connect the hatch kitchen to the cabin, a large front-facing window for views of whatever spectacular landscape you're parked up in, and extra-wide doors for easy entry and exit.
Teardrop campers: should you invest?
For fans of the great outdoors, or vanlifers looking for something a little different, a teardrop camper offers an affordable and easy way to get out and explore nature without the size and cost of an RV. For those who don't plan to live in their camper and just want a fun vacation option, teardrops are efficient, easy to manage, and a lot cozier and more secure than a tent.