Tiny Homes are becoming the next great thing in the short-term rental industry. For guests, it is the perfect way to test out tiny living without the commitment of a purchase. Renting a tiny home Airbnb for your vacation is a wonderful way to live simply and take a break from the "hustle and bustle" of everyday living. If you are already a tiny homeowner, or considering it, renting your tiny home as a vacation spot on Airbnb is a reliable way to earn extra income.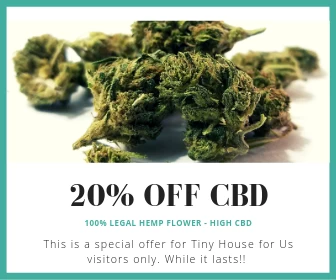 We've put together a list of ten of our favorite tiny homes around the United States that are available for rent on Airbnb. Check them out, and start planning your next vacation!
Off-Grid Inn – Fall Creek, Wisconsin
The Off-Grid Inn is immensely popular with midwesterners. Located about 2 hours from Minneapolis, MN, this tiny cabin allows guests to enjoy the solitude of the woods without sacrificing the comforts of home. The cabin comfortably sleeps 2 people on a queen bed and a third in the cabin's seating area. It is the perfect spot to get in touch with nature and enjoy a weekend getaway.
The Phoenix House – Pāhoa, Hawaii
Do you want to wake up at the feet of a volcano? The Phoenix House on Hawaii's Big Island both sits on and offers sweeping views of the Kalapana volcanic lava bed. You'll be sleeping near the base of the Kilauea Volcano which is one of the world's most active volcanoes! While the tiny home offers a great opportunity to be off-the-grid, the home is just a 20-minute drive from downtown Pāhoa.
Snow Cross – Red Cliff, Colorado
If you want to experience Veil without Veil prices look no further than the Snow Cross! This sustainable tiny Airbnb is a mere 25-minute drive from world-class skiing and surrounded by 30 acres of national forest in the Rocky Mountains. The home utilizes solar electricity to keep you connected with the internet and TV, without compromising the advantages of its remote location. Pets are welcome!
The Limerence – Lebanon, Teneesee
Get ready for some self-proclaimed "hillbilly-chic" living at the Limerence. Located on the grounds of Twin City's Farm, guests will enjoy an authentic country breakfast and access to primitive walking trails near the Impossible Forest in Tennessee. Life is simple at the Limerence, so you may see tiny critters running around, and won't have access to the host after 6:00 PM. If you're ready to get back to basics and enjoy rural life, this home may be the adventure you've been searching for.
Renew Cabin – Sedona, Arizona
Renew Cabin is a part of a luxury tiny house community in Sedona, AZ. In permanent housing, we've seen a trend toward tiny house communities. At Renew Cabin, you'll get a taste of what a "living small" community feels like! While still equipped with modern appliances, you'll have breathtaking views of the surrounding canyons and the perfect spot for stargazing in your private hot tub.
The Cedar House – Charleston, South Carolina
The loft-style Cedar House is the epitome of Southern Charm. This is an Airbnb Plus listing, which means the host offers exceptional quality, comfort, and style. The host provides beach supplies such as chairs and towels, as well as access to two cruiser bicycles to get you where you need to be!
Miette Suite at Baetje Farms – Bloomsdale, Missouri
"Miette" is the French word for "small, sweet thing", and this intimate cottage lives up to its name. The Miette Suite is one of five cabins across Baetje Farms. Nestled between the rolling hills of Forche du Clos Valley, the farm is home to an award-winning creamery. The suite pays tribute to the area's French-immigrant roots with a nod toward the fantastic aesthetic inside the suite. The home boasts a stunning copper bathtub, floor-to-ceiling windows, marble bathroom floors, and much more. Find a taster of France in this Missouri tiny farm home!
Hip Hop Art Gallery – Oakland, California
This Hip Hop themed tiny home gives guests an authentic slice of southern California living. Located in a predominantly Spanish-speaking neighborhood, guests can find fresh tamales and Arroz con Leche at every corner. The host prides themselves in providing a real-life Cali experience that isn't tainted by the rose-colored glasses of Hollywood. Guests will sleep comfortably in the loft with a special floor mattress, and have access to a gas stove, mini-fridge, and espresso machine. There is nothing but good vibes at this Airbnb Plus home!
Tranquil Shipping Container – Seattle, Washington
Whether you're a Grey's Anatomy lover or coming for the excellent coffee culture, this shipping container home is the perfect home base for your Seattle vacation. The home is located just steps away from Seattle's iconic Woodland Park. The studio offers a beautiful interior complete with a queen bed, workspace, kitchen, and deck for enjoying your morning cup of Joe.
Country Cabin – Loon Lake, New York
Turn off your cell phone – you're not going to get any cell reception!
Say goodbye to constant ringing and notifications when you book your vacation at this remote cabin in Loon Lake, New York. With heated floors, this is the perfect spot to curl up with a good book and watch the snow fall. During warmer months the property opens its doors straight to a fishing spot, provides a large BBQ grill, and offers outdoor furniture with a fire pit to help you spend time outdoors. This is the perfect northeast spot to enjoy tiny living!
Renting a tiny home on Airbnb is the perfect opportunity to give tiny living a try. You'll get the experience of temporarily minimizing your life and living sustainably without having to go cold-turkey. Even if you're not looking to buy a tiny home yourself, visiting these Airbnb's will give you a chance to recharge and slow down. Consider booking a tiny home on Airbnb for your next vacation!