If you haven't already heard, Amazon Prime Day is an annual deal event for people with Prime membership. This year, it runs from the start of Tuesday 13th October for 48 hours i.e. until the end of Wednesday 14th October.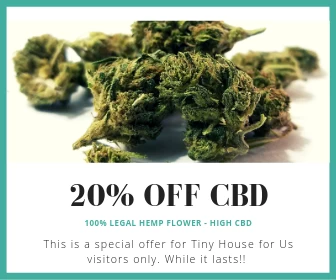 It's a great opportunity to snag some serious bargains and make great savings on a whole range of products — including products that are perfect for a tiny house, whether you're buying a tiny house or building your own.
And while the best discounts will be mid-October, in the weeks and days leading up to Prime Day, Amazon is also giving lots of exclusive discounts. These early Prime Day deals include all sorts of items from leading brands and small business owners that are ideal for small living.
Here's our guide to the best things to buy for your tiny house as part of Amazon Prime Day 2020, from blenders and rugs to storage solutions.
Not an Amazon Prime member? Maybe now's the perfect time to start your 30-day free trial 😉
Another top tip: keep your eyes peeled for Lightning Deals, which are only available for a short period of time. Sign up to receive mobile alerts when a deal is about to begin, and when you've found a product you want, add it to your cart and check out. A count-down timer will let you know how long you've got left.
Dual Convection Countertop Toaster Oven
Kitchen appliances
For more of the best tiny house kitchen appliances, check out our guide here. 

Home furnishings
For more tiny house furniture ideas check out our guide here. 
Over The Sink Dish Drying Rack

Storage
For more tiny house storage ideas, check out our guide here. 
Starry Fairy Copper String Lights

Decor
Gadgets and tech
Top tip: the best laptop deals are still to come as part of Prime Day. Keep your eyes open for deals on the 2020 MacBook Air in particular.
Just because…
Decisions, decisions
There's a heap of stuff already on offer as part of the imminent Amazon Prime Day deals. If we were going to pick just one thing? Probably the KitchenAid Toaster Oven. It's sleek, a good size, and has a $60 discount. 
But don't settle for just that. Get ready to head over to Amazon on October 13th for even more great deals for your tiny house.