The modernist architecture movement began blossoming in the 1940s. Folks were looking to make their work and homes feel less formal and embrace a natural and straightforward expression. Today, this trend has expanded to tiny houses. Gone are the days of cookie-cutter suburban homes but rather beautiful, sleek, and trendy spaces. So if you consider designing a modern home, remember the nine pillars of contemporary architecture.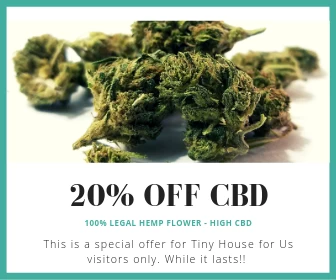 All lines and curves must be clean

Linear spaces with little ornamentation

Asymmetry

Embrace natural light and skylights

Sustainable building materials

Open-floor plans

Energy-efficient

Technology integration

Integration of interior and exterior space

Single-story layouts (but not always)
This blog post contains ten of our favorite modernist tiny homes that embrace many of these pillars of modern design.
The Nest
This beautiful short-term rental tiny home in Phoenix, AZ, was designed by Damon Wake and Hunter Floyd. They are known for creating beautiful and contemporary structures with sustainable materials. The 260 square-foot tiny rental is designed for exceptional performance. It can comfortably sleep four people with its loft bedroom and sleeper couch. It includes luxury amenities like floor-to-ceiling windows, an all-in-one washer/dryer combo, and a walk-in closet. The neutral color scheme allows the loft ladder to blend into the kitchen seamlessly. This home, known as The Nest, is a brilliant example of tiny home modernism.
A Modernist Farmhouse
Believe it or not, you can combine a bit of rustic living with your modernist tiny home design. This modern farmhouse in Reno, NV, designed by TruForm Tiny does it perfectly. Using sliding barn doors on one end, the 28-feet long home allows for a bonus room or office space. The bedroom has been lifted to make room for a king-sized bed (a true luxury in tiny living!). With a simple color pallet and thoughtful design, you can have the best of both rustic and modern designs in one home.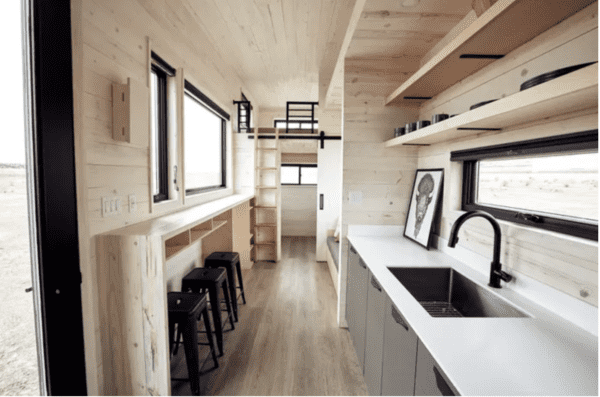 \
A Towable Micro-Cabin
If you have commitment issues and can't decide if you want to stay in one place or hit the road – this micro-cabin is for you. Though reminiscent of mountain life, the interior is exceptionally modern. The highlight of this home is its built-in counter that can serve as a dining counter, workspace, or storage space. In addition, it utilizes a single way for kitchen appliances, allowing it to comfortably fit a full-size refrigerator, oven, and 32-inch stainless steel sink. With this home, it is no wonder you'll want to take it with you wherever you go!
The Super Space Saver
180 square-feet might not sound like a lot, but this incredible New Zealand tiny home has found extraordinarily unique and innovative ways to save space. For starters, the staircase to the loft bedroom is retractable. It quickly moves back into the wall when it is not needed. A wall ladder leads to a loft office space on the opposite side. The home has high ceilings, utilizes lots of natural light, and embraces linear architecture. You can even place things under the floorboards with its removable storage feature!
The Nash
The Nash was created by Columbus, Ohio's first tiny home construction company, Modern Tiny Living. They specialize in modern 20-foot trailer homes. This particular design includes a king-sized loft, stairs that double as storage, and enough space for a washer and dryer. It consists of a stylish bookcase and a foldable dining or workspace table. The teal cabinetry mixed with the hardwood floors is truly a delight for the eyes!
The Draper
Colorado couple Brian and Joni Buzarde created a 300 square-foot RV-style floor plan called The Draper. They are experienced tiny-home owners and designed this floor plan to include a foldable deck that appeared as an extension to the home rather than a tack-on. You'll notice that the roof has a unique slope, which is a typical element of modernism.
The deck easily retracts and expands and is accessible by sliding glass doors in the home's main living space. In addition to the stunning hardwood deck, the home is complete with an intentionally separate mudroom. Brain and Joni learned from experience that the most peaceful tiny homes could separate spaces, no matter how small.
Pavilionaire – A Finnish Sauna
The 242 square-foot Pavillonaire is a fantastic example of a modern home inspired by Finnish architecture. Finnish and Japanese architecture are the two premiere leaders in modernism. This tiny home has the living space built upon a raised foundation. The roof then extends to create a terrace over an outdoor space. In addition, you can spice up the look by installing simple outdoor walling, foliage, or furniture to separate the rooms. In addition, they incorporated simplicity and clarity into their design, demonstrated by the large windows and straightforward floor plan. This is an excellent option for tiny homeowners looking to stay in one place and want their deck built-in with their home.
Makatita
Liberté Tiny Houses created Makatita. The 182-square foot home is more than a place to live – it's a piece of modern art. The designers constructed this home to be reminiscent of leaves, to match their client's love of nature. The creases of the design, both internally and externally, allude to foliage folding in on itself. Connecting to nature is a crucial element of advanced modernism. The slatted windows mimic light shining through dense forest. The inside continues the theme with minimalist and rustic designs. You'll find bench seating, a stunning heating element/stove, shower and toilet, foldable desk, and even access to rooftop seating.
Japanese-Style Hut
The above home was designed by a Japanese retail company that focuses on sustainable living and minimalism. The "Muji Hut" is just under 100 square feet. As we mentioned earlier, Japanese architecture is a leader in modernism. Modernism and tiny Japanese homes bear a striking resemblance due to their connection to nature and simple living.