The most common trailer for a tiny house on wheels is a bumper pull trailer. These trailers are easy to pull, and with a variety of options on the market there's something for everyone. In today's post, we're going to cover everything you need to know to get started shopping for your bumper pull trailer.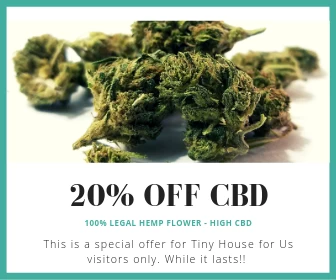 We'll typically recommend a deckover trailer that is pulled from a standard ball hitch for most first time builds.
What is a Bumper Pull Trailer?
A bumper pull trailer is a trailer that is towed by the bumper of the tow vehicle. These are the most common trailers (for all applications). They attach via a tongue on the trailer that connects to a ball hitch on the bumper of the towing vehicle. A standard pickup truck or SUV will come with a receiver for a ball hitch (and some may even include the ball hitch itself).
Why a Bumper Pull vs. 5th Wheel and Gooseneck Trailer
The most common alternative to a bumper pull trailer is a gooseneck trailer (or a fifth-wheel trailer). While a fifth-wheel trailer and a gooseneck trailer aren't exactly the same, they are very similar. In fact, they're so similar that they're often used interchangeably. Both of these trailers use either a gooseneck or 5th wheel hitch in the bed of a truck rather than a bumper pull hitch.
A bumper pull style trailer has a few distinct advantages:
No special hardware installation required
Cheaper trailer
Can be towed by SUV's and Trucks
On the other hand gooseneck trailers have higher tow ratings (meaning a heavier tiny home) because the gooseneck tongue provides more stability. The added stability of the gooseneck tongue means you can have a longer trailer as well. This means you can have more square footage in your tiny house. As you upgrade from a gooseneck to a 5th wheel hitch you get even more stability for even more weight and length.
If you're build is going to be exceptionally large or heavy gooseneck and 5th wheel options are great, but for most people the special hardware and different driving experience is too big of a downside for how little upside it provides.
Why Deck Over Trailers Make the Best Tiny House Trailers
Deck over trailers are flatbed trailers where the trailer deck sits above the trailer wheels. This is opposed to trailers where the wheel stick up into wheel wells on the trailer. This type of trailer is preferred because it gives you a perfectly flat deck. The flat deck provides for significantly more width. The one drawback is that this generally increases the deck height.
Picking out Your Tiny House Trailer
Used Versus New
When picking your trailer you'll want to consider whether a used or new trailer is right for you. A new trailer will typically run you from $3,000 – $7,000 dollars depending on the size and type. A used trailer is substantially cheaper though you do need to be extra careful to make sure that you get a trailer that fits your needs.
Choosing the Weight Rating of Your Trailer
The most important step of picking your trailer will be making sure it fits the combined weight of your tiny house and furnishings. You should be able to check with your tiny house builder to find the weight rating you'll need. Of course, if you aren't using a house builder, you'll need to find it on the house plan yourself.
If you decided to use a new trailer, the manufacturer or distributor should be able to provide the exact weight rating of the trailer. For a used trailer, you'll need to find a weight placard on the trailer itself. If you can't find one, we recommend skipping that trailer entirely. You'd rather be safe than sorry.
Choosing the Size of Your Trailer
Trailer size is going to be the next factor once you've found a trailer frame that is rated for what you want. Most trailers will be available in various trailer lengths. You'll want to make sure you pick a trailer length that fits your tiny house build, so be sure to check with your tiny house builder or plans.
Most deck over trailers will have a very similar deck width around approximately one hundred inches.
Custom Trailers: Modifying your trailer
One important step to consider is if your build will require you to reinforce your trailer. You'll have to look at the trailer specifications and your build plans to determine this. When it is required, we always recommend using a certified professional for any modifications necessary.
Now that we've covered everything you need to go over to pick your trailer, you're ready to get started on your very own build. One of our favorite things to do before we start is to look at some inspiration. You can see our favorite tiny houses on wheels here.