This Sprinter conversion catches the eye with a simple but appealing earth-toned interior, and it has a lot more going for it too! It sleeps four (two in a queen size Tuft and Needle bed). It has a thermostat-regulated heater and enough insulation that the owner has spent −40° winters inside. Roof-mounted photovoltaic panels feed three 165 amp hour deep-cycle batteries, LED lights and a stainless steel fridge. Kitchen facilities include a sink with running water and a propane stove. The van, a 2008 model with 150,000 miles on it, is currently for sale in LA at $64,999.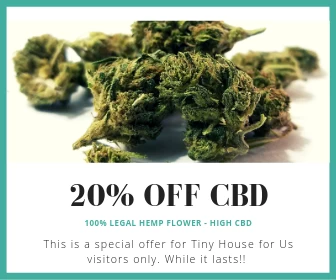 Parallel parking – try that with a THOW! (No, on second thought, don't.)
Walnut cabinets, a hammered metal sink, and natural fiber curtains in the kitchen.
A hammock chair provides space-saving seating.
The 'bedroom' is graced with a custom copper ceiling and LED mood lighting.