A lot of bus conversions, you kind of have to like buses to appreciate, because you're never going to forget that you're living in one. That's part of the charm for a lot of people, of course, but here's something that's likely to get both skooly and THOW fans cheering. Currently for sale in Austin ($75,000), this 27-foot Thomas bus has been so completely transformed inside that you could easily write off the curved roof as gypsy-wagon styling in a bespoke tiny house. The fact that said roof has been raised a foot and the original glass has been replaced with seven Low-E double-hung house windows helps that effect a lot – and then there's all the reclaimed wood.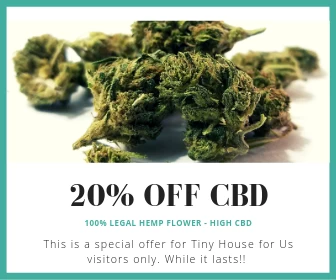 The floor is 100-year-old white heart pine from Asheville, North Carolina; the tongue-and-groove front accent wall is 100-year-old cedar from Charleston, South Carolina; the door set into it is reclaimed barn wood; and the remaining walls are reclaimed pine fencing. The 7-foot maple table isn't reclaimed, but is made from a very nice ambrosia maple cut two inches thick with a partial live edge. For even more homey charm (and some heat), there's a cast iron Hobbit woodstove in the middle, next to the kitchen area, which is surrounded by natural chunks of North Carolina river rock to help with heat retention. (Yes, we're starting to get the idea that this bus began its second life somewhere in the Carolinas!)
There's a lot more to learn about this outstanding bus conversion – beginning with the fact that it's off-grid capable, with a solar array, a composting toilet and 100 gallons of fresh water storage – so be sure to check out the listing at https://tinyhouselistings.com/listing/austin-texas-usa-12-rv-tiny-house/ after you've gone through the photos below.
While the 2002 bus has nearly 200,000 miles on its 7.2-liter CAT turbo-diesel, it's said to be well maintained – it certainly looks like it's in great shape!
The custom-built 7-foot sofa has a huge cabinet on 300-pound capacity sliders underneath it.
The bedroom is behind the kitchen, under the second skylight. You can see the bathroom (which also has a small shower) behind the curtain to the left.
The kitchen may not look very big, but the pull-out extension adds some working room to the ⅛-inch stainless steel countertop. The 12-volt Nova Kool fridge/freezer is conveniently tucked away under the Ikea farmhouse sink.
While it may look like the bedroom doesn't fit much more than the queen bed, there's a cabinet underneath it and a closet behind it for storing clothes and blankets.