This is perhaps one of my favorite designs – the Caboose as it's known is made by Wheelhaus. They're based out of Jackson Hole, Wyoming and you can really see the influence of the region on the design of this tiny park model house. It's a perfect blend of rustic design, elegance, and functionality wrapped in a compact design that comes in at 400 sq. ft. and measures 12′ x 34′. It's designed to be a turnkey unit, complete with all the luxuries you see in the photos below.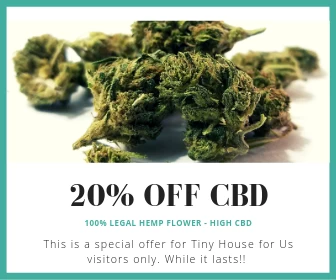 The price of $98,500 isn't too bad for what you get – built with efficient SIP panels and a SIP roof system that includes 4″ thick walls and a 6″ thick roof, you can expect a very efficient home that keeps heating and cooling costs low. The exterior blends a look of rusty metal with cedar siding that's stained to look like barn wood, another nice touch. A covered porch extends off the end, through the single bedroom, offering a nice place to relax and unwind. A vaulted ceiling inside the living room area creates a sense of space, and the kitchen area features stainless appliances, a full size sink, and stylish cabinets with frosted glass.
Compared to the cost of a new home, the Caboose makes for a sensible choice and I could picture this as a beautiful vacation home near Jackson Hole Resort. One can dream right?